Pleated Metal Fibre Filter Cartridge
Saifilter adopts pleated metal fiber filter cartridge products manufactured by Pleated technology, and sintered felt media is its core filter layer component. The filter element manufactured by this technology has the characteristics of a large surface area, high dirt-holding capacity, and long service life. Compared with woven mesh media, sintered felt media has excellent properties such as good permeability and low flow resistance.
Its pore size distribution is uniform, and the porosity can be as high as 70%-85%. Cylindrical Pleated metal Fiber filter cartridges can save operating costs by gas backflushing or cleaning in place. Additionally, Saifilter offers a range of customization options, including size, material, and various end connection types for the Stainless Steel Filter Cartridges. Saifilter can also add an outer cage (perforated sheet) to the design of Pleated cylindrical fiber filter cartridges to ensure the integrity of the filter element during cleaning.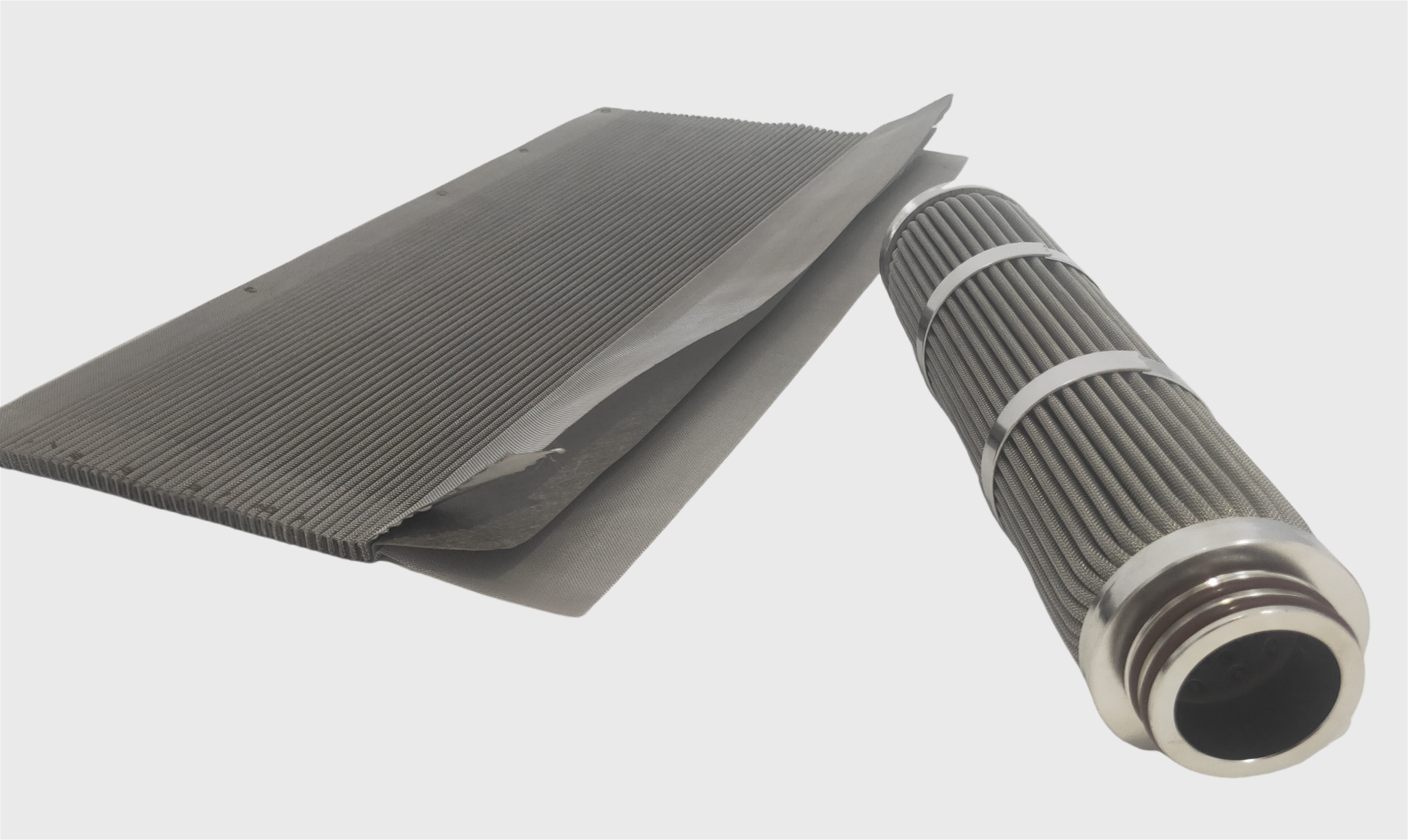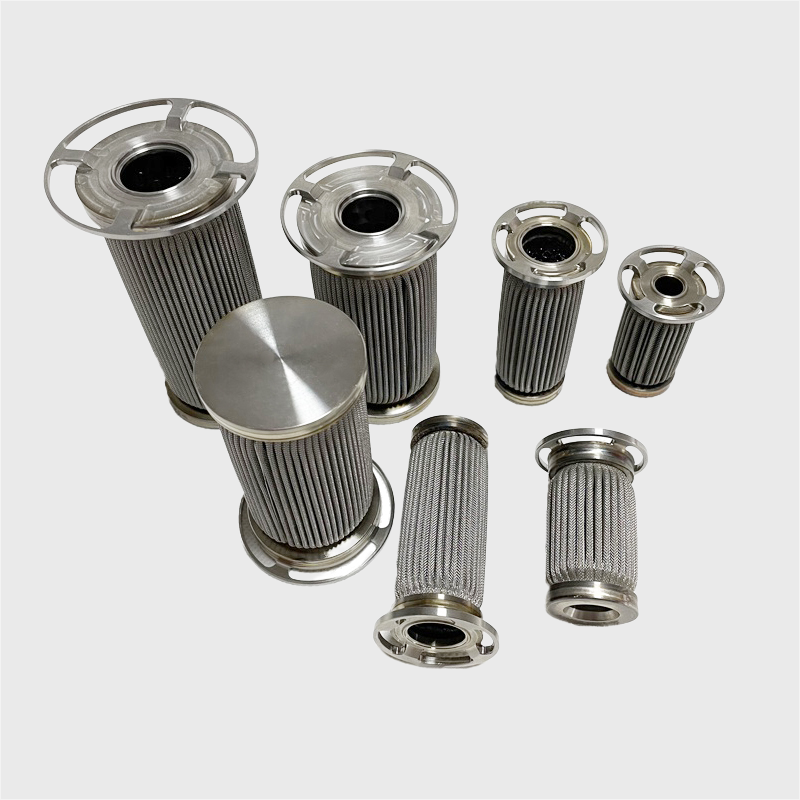 In order to meet your specific specifications, pleated fiber filter cartridges can be customized in terms of size, material, and various end connection types. Due to production process limitations imposed by the filtering medium, the manufacturing cost is relatively higher compared to pleated wire cloth filters. Cylindrical Pleated Metal Fiber Filter Cartridges are employed in demanding environments such as the nuclear industry, the aerospace sector, and more.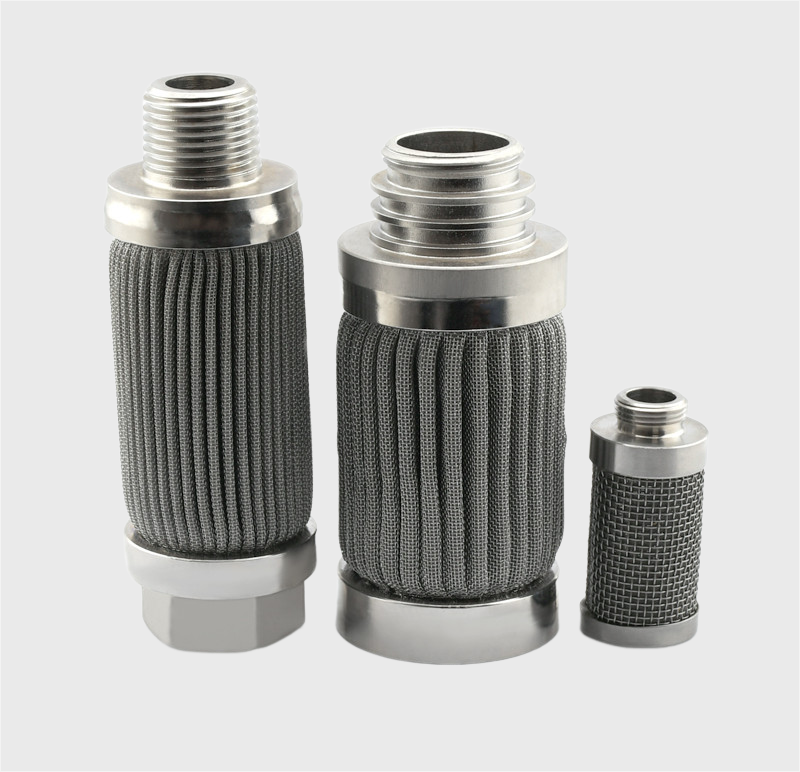 Stainless Steel Fibre Pleated Filter Cartridge Thread Connection Type (BSPP、NPT)  (BSPP、NPT)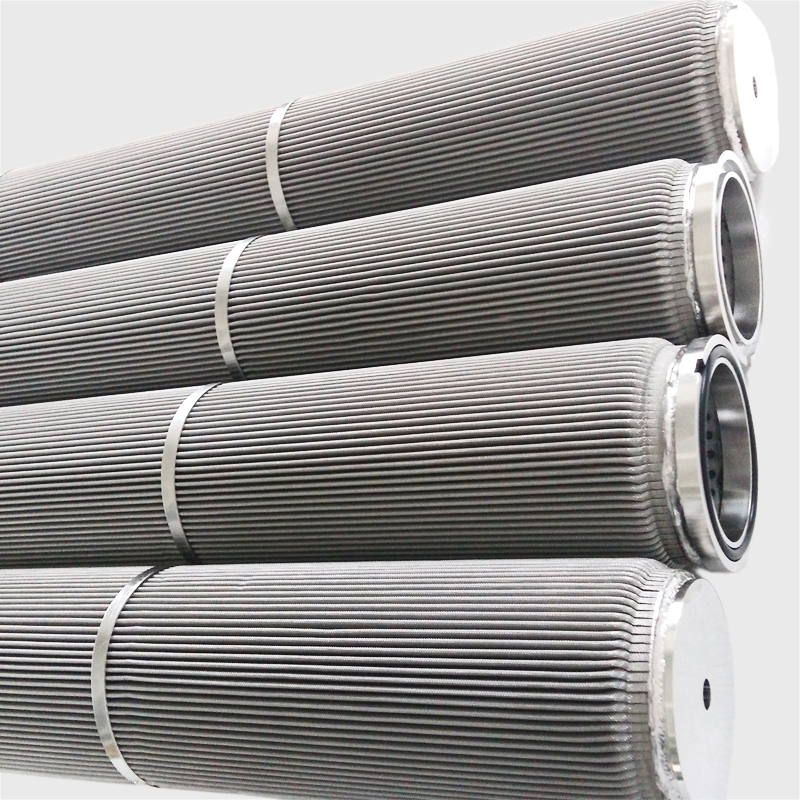 Pleated Metal Fibre Filter Double Opening Type (DOE)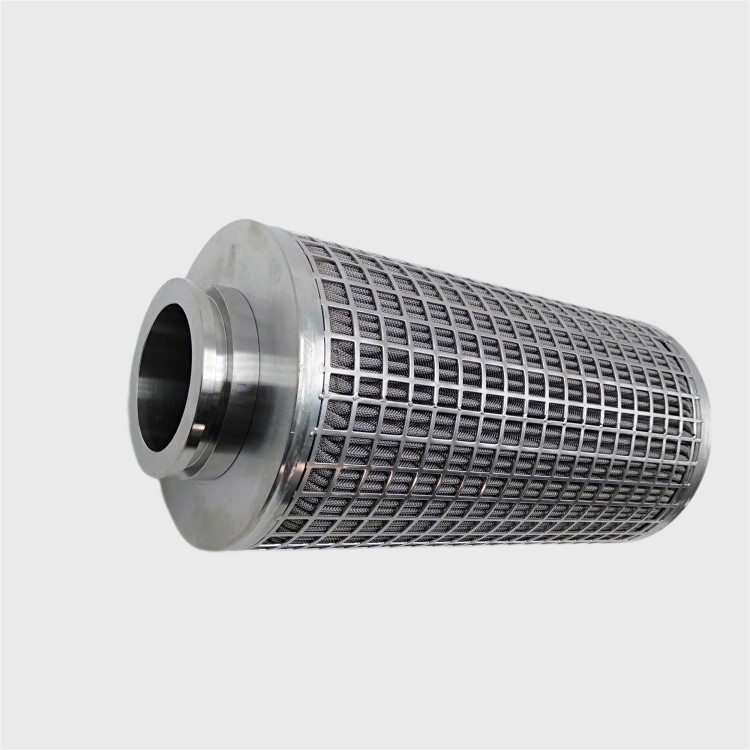 Pleated Metal Fibre PFilter Element Quick Release Connection Type Port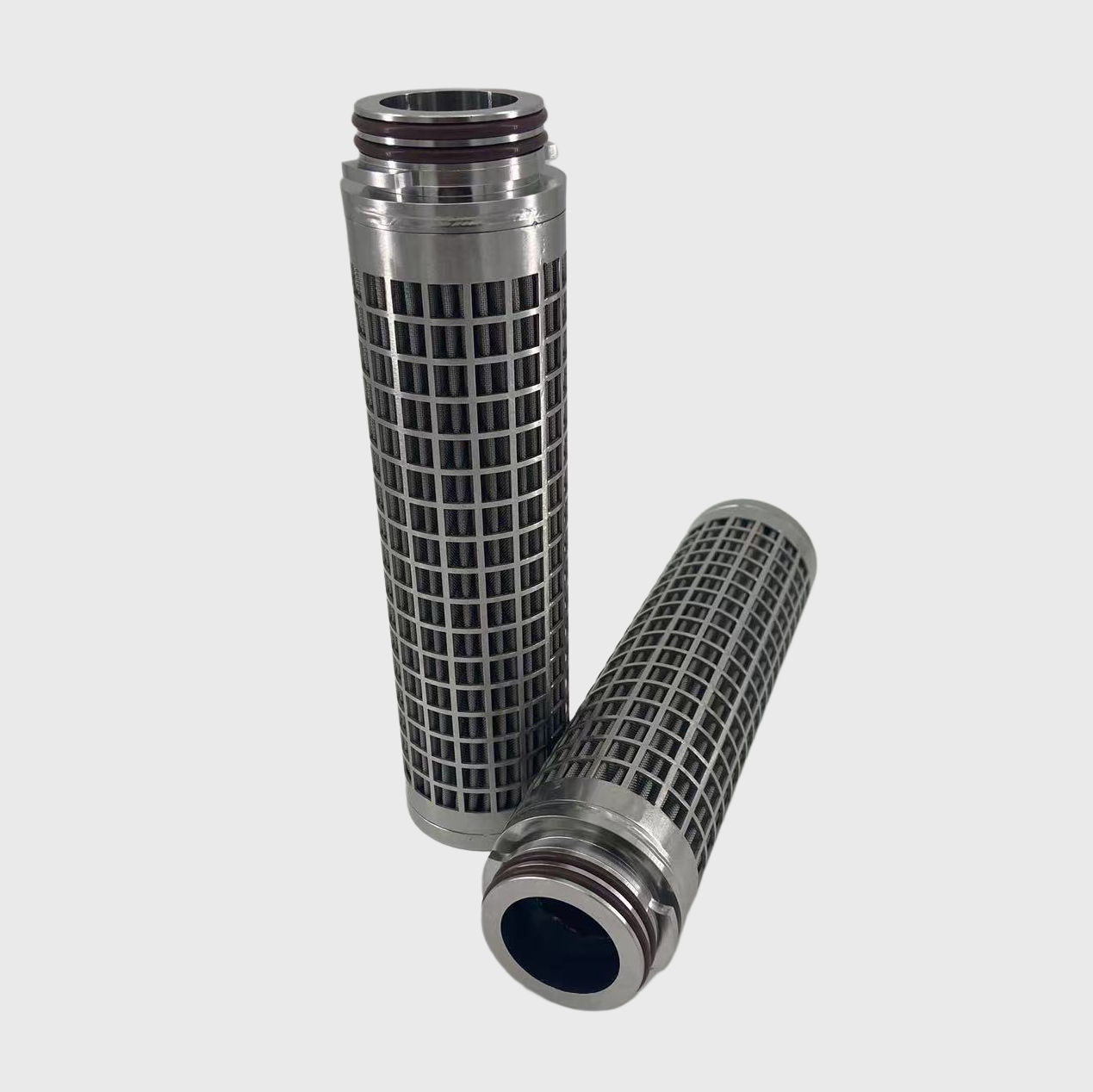 Stainless Steel Mesh Pleated Filter Cartridge Standard connector Type (220,222,226)
Saifilter works closely with many OEMs to analyze customers' designs, parameters, and data requirements. Provide customized recommendations for different filter system applications to ensure that the selected pleated wire mesh filter fully meets the design requirements, and parameters, and matches the data analysis. You can replace it with well-known brands in the market such as PALL, PORVAIR, GKN, and NORMAN's pleated wire cloth filter.
Saifilter has established long-term business relationships with globally renowned Original Equipment Manufacturers (OEMs), focusing on meeting customers' development and design requirements in new application areas.
Regarding the practical application of automated filtering systems, we provide tailored solutions with corresponding pleated fiber filter cartridges, addressing design specifications and validating detailed parameters and data. Our products can readily substitute for well-known brands in the market, such as stainless steel fiber pleated filter cartridges offered by PALL, PORVAIR, GKN, and NORMAN.
In order to meet different working conditions and specific installation requirements, Saifilter's pleated metal fiber filter provides users with customized designs. The standard configuration components are as follows.
Standard connector(220,222,226)
Snap coupling
Thread connection(BSPP、NPT)
Flange connection
Rod connection
Double Open End(DOE)
Single Open End(SOE)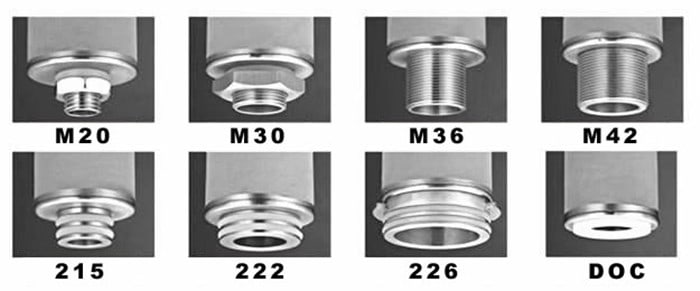 Diameter: 60mm (2.4"), 70mm(2.8"), 80mm(3.1"),100mm(3.9")
Length: 125mm (5"), 250mm (10"), 498mm (20"), 745mm (30"), 1012mm (40")
* Other diameters and lengths available on request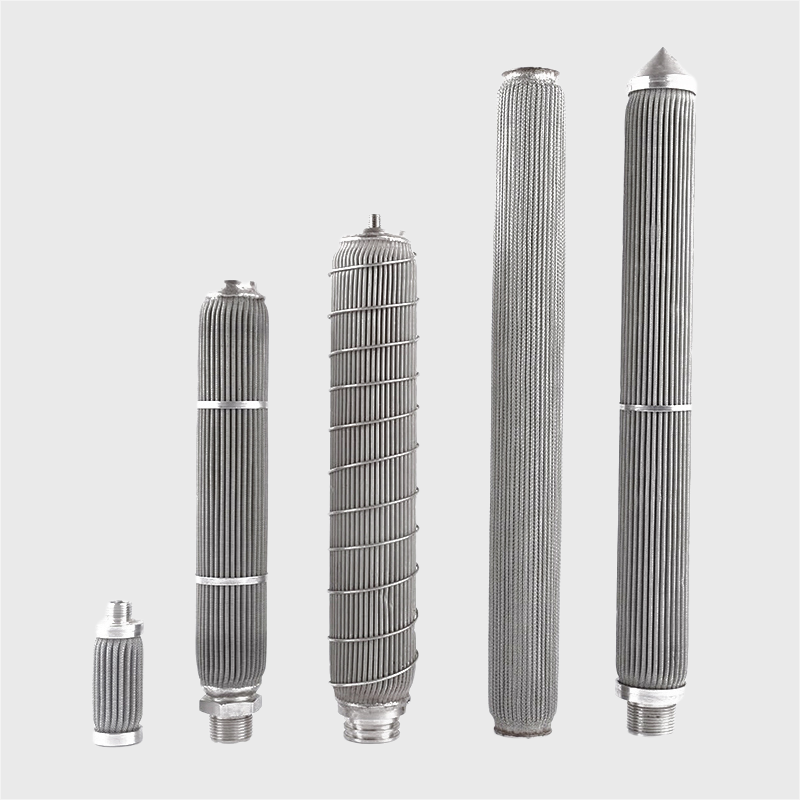 Temperature limit with Buna-N gaskets: 121℃ (250°F), other gasket materials to 232°C (450°F). From -269℃( -452°F ) to 420℃ ( 788°F ) alloy limiting
Normal flow direction: 15bar (218psi)
Reverse flow direction: 3bar (44psi)
* Grade dependant
Micron size range: 3-100μm
Different media options: From 2-layer to 4-layer mesh, configurations, standard options include metal woven mesh, non-woven fiber felt, and titanium fiber.
Materials of construction: SS316/316L, titanium.
Gaskets: PTFE, Buna-N2, Graphite composite
Sintered Mesh Filter Features And Benefits
Flexible Configuration: We can provide different aperture sizes, dimensions, and end connection methods.
Rapid production: Can be produced within 7 days for standard end connection and sealing configurations.
Prolonged Service Life: A larger surface area and high contaminant-holding capacity ensure an extended operational lifespan.
Low-Pressure Drop: With lower initial pressure differentials, the fluid can pass evenly through the cylindrical pleated metal fiber filter cartridge. The core filtration layer can capture particles and contaminants with higher efficiency.
Versatility: Applicable in the fields of gas-solid separation and liquid-liquid separation media.
Direct Replacement: Compatible dimensions and filtration performance for replacing well-known brands of filters such as PALL, PORVAIR, GKN, and NORMAN.
Compatibility: Compatible with different liquid or gas media, capable of operation in harsh environments (including corrosive conditions, high-temperature synthesis gases, or high operating differentials).
Product Traceability: Each pleated metal fiber filter cartridgeis provided with laser-engraved numbering, and entered into a product traceability system for simplified tracking and management.
Multiple Cleaning Cycles: Depending on the contamination level of the cylindrical pleated metal fiber cartridges and the type of fluid media, different cleaning processes can be chosen, such as high-temperature steaming, chemical cleaning, and ultrasonic cleaning. The recommended cleaning lifecycle is 2-3 times.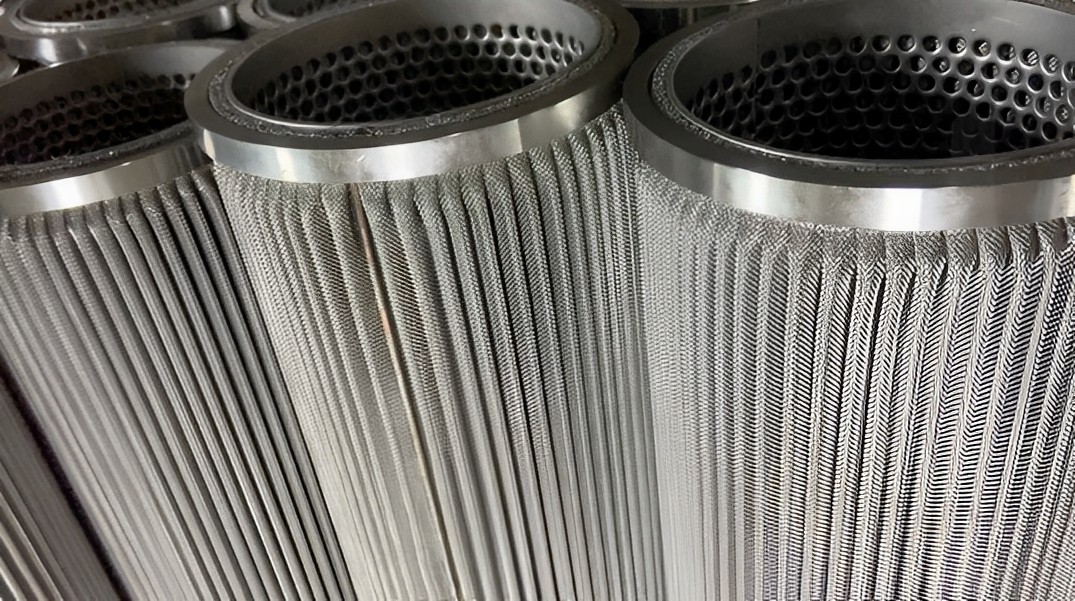 Pleated Metal Fiber Filter Component Details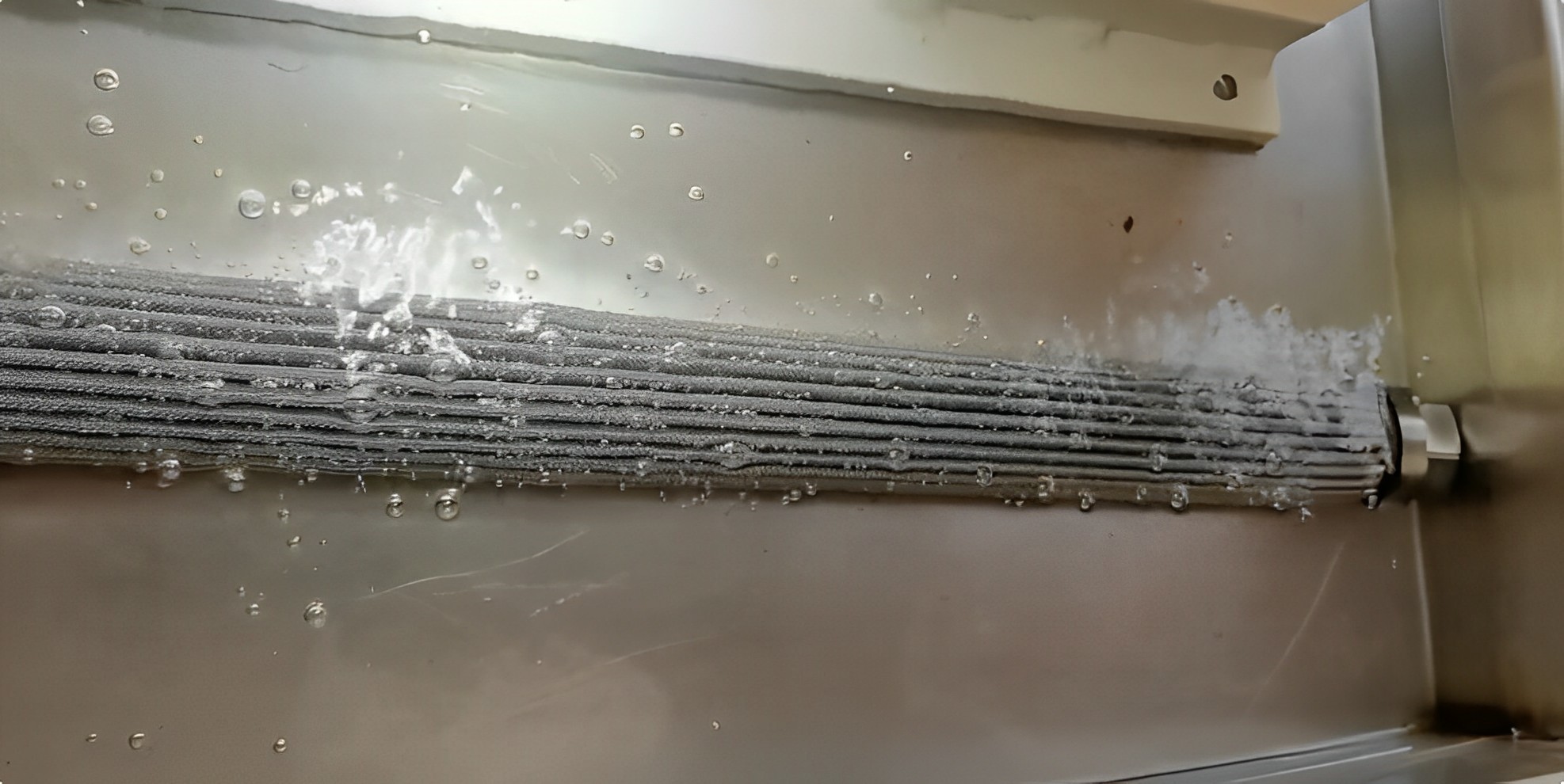 Pleated Fibre Filter Cartridges Bubble point Detection
Aerospace and Defence
Nuclear
Food and Beverage
Pharmaceutical
Industrial Process
Chemical Process
Polymer
A pleated metal fiber filter cartridge is a type of filtration component designed to remove impurities from fluids and gases using a pleated structure made from metal fibers.
Pleated metal fiber filter cartridges offer high filtration efficiency, excellent chemical and thermal resistance, durability, and can withstand high pressures. They are suitable for various industries such as aerospace, pharmaceuticals, and petrochemicals.
The pleated design increases the surface area, allowing for efficient particle capture. Fluid or gas flows through the cartridge, and contaminants are trapped within the metal fibers as the clean fluid or gas passes through.
Pleated metal fiber filter cartridges can effectively remove a wide range of contaminants, including but not limited to particulates, bacteria, viruses, and various solids from liquids and gases.
Cleaning and maintenance methods depend on the specific cartridge and its application. Generally, these cartridges can be cleaned by backwashing, ultrasonic cleaning, or chemical cleaning. Manufacturers often provide guidelines for proper maintenance based on the cartridge's design and materials.