Porous Gas Sparger Definition
The porous metal sparger is an element that can generate airflow uniformly and diffuse bubbles of a specific size. The porous sparger effectively transfers the gas to the liquid, and its surface has millions of tiny pores, which transfer countless tiny gas bubbles to the treatment liquid. The perforated metal sparger is used in a range of different applications in almost every industry. If you need to introduce gas into liquid in any type sparger of critical application, for example, sparger in bioreactors, sparger in fermenter. By controlling the porosity of the porous metal, it is possible to ensure uniform permeability and maintain consistent/repetitive performance every time.
The bubble size is essential for optimizing mass transfer, reducing gas consumption and energy costs. As a manufacturer of porous media and components, we are able to specify, design and manufacture high-efficiency products suitable for specific applications. The sintered porous sprinkler generates more and smaller bubbles than any other type of sparger, thus increasing the gas/liquid contact surface area, reducing the time and volume required to dissolve gas into liquid, and greatly increasing the transfer rate.
The advantage of the SAIFILTER porous gas sparger is that compared with all stainless-steel gas spargers, the pore structure is closely consistent. This consistent pore structure provides a higher bubble point, resulting in tiny and consistent bubbles.
Component Configuration of Sintered Porous Sparger
Sprinklers have various end fittings, such as hexagonal sprinklers, Barb, MFL, NPT, Thread, Tri Clamp Fitting and other welding heads. We recommend generally using 316L alloy materials for general gas spray manufacturing. The best sparger system can be determined according to the process requirements.
When a single sparger is insufficient to achieve the required gas absorption. Multiple spargers can be connected through various hardware connections to increase the gas diffusion area, so as to achieve better gas mass transfer, and provide ring, frame, plate and grid shapes. These elements can also be strengthened from unit side mounting to cross tank flange side mounting.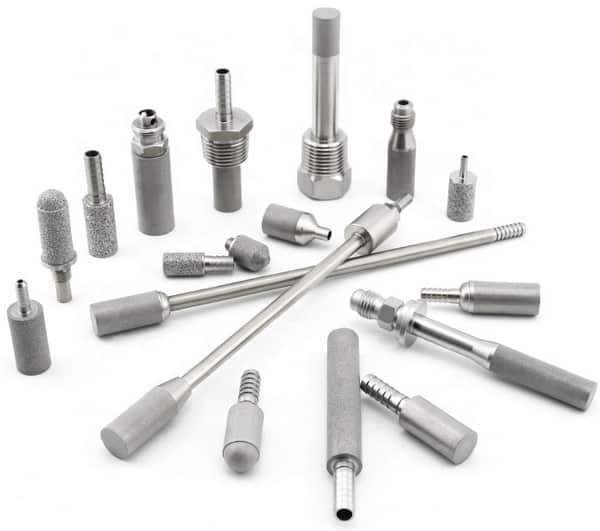 Diameter range: 5.0 -350mm
Height range: 5-800mm
Aperture range: 0.2-120µm
Porosity: 15% -55%
Maximum working pressure: 50Bar
Maximum working temperature: 600℃ (1112℉) depends on the choice of metal alloy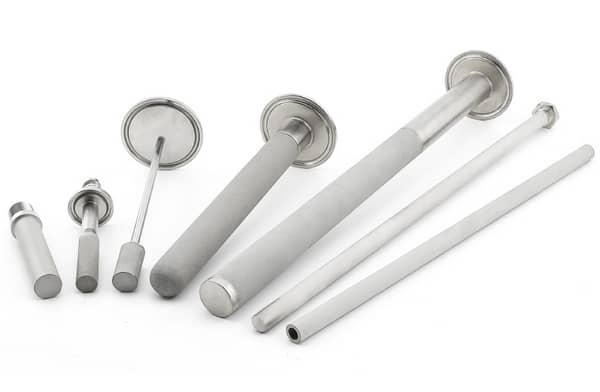 Selection of Porous Media for Sintering Sparger Components
The component materials can be made of stainless steel sintered porous mesh, stainless steel sintered porous powder, and sintered porous polyethylene or polypropylene. Stainless steel sprayers are available in 316L stainless steel and higher alloys, such as Inconel® and Hastelloy®, for very demanding applications. These sprinklers are made of this corrosion-resistant material, can be cleaned, and can be heated or steam sterilized if necessary.

Customization of the Gas Sparger
Can provide a variety of structural shapes. If you need non-standard sizes or special accessories, or special metals (such as titanium), SAIFILTER can create a customized sparger fermenter design solution. After our calibrated sprinkler, the components are 100% leak tested to the bubble point, making it suitable for various gases, such as nitrogen spargers, oxygen spargers or CO₂ spargers. Specific performance and conditions should be considered in the design and manufacture of spargers. Flow rate, process temperature, system pressure and corrosion effects are only a few.
Disadvantages of Porous Spargers
Since the size of the bubbles formed by the sprinkler is 10-100 times the size of the aperture, there is a certain pressure drop during the operation of the sparger, and the aperture is easily blocked by solid particles during long-term operation. They are only suitable for laboratory-scale non-stirred containers and small-scale containers. Therefore, it is still a contradiction when reducing the pore size of the bubble and preventing clogging.
The Right Sparger for your Application
In order to determine the correct size for sparger nozzles in bioreactor or containers, you need to know the following:
Gas flow
Gas pressure
Liquid pressure and temperature
The actual capacity of the air compressor
Bubble discharge speed
Features of Porous Metal Sparger
Rugged and Durable: Compared with other non-metallic materials, all stainless-steel structures can be used for many years. Due to the fully welded structure design and high structural integrity, the porous metal sprinkler will maintain trouble-free operation for many years.
High Strength: The porous sparger made of metal material sintering process can withstand high tensile strength, which makes it suitable for applications that work at high flow rates and high pressures.
Uniform porosity: The sintered metal process facilitates the construction of porous sparger with uniform pore diameters. For different grades of media materials with different pore diameters, you can control the size of the bubbles generated according to the specific application.
Reusability: Generally, an ultrasonic bath can be used to easily clean the porous gas sparger, and the efficiency of the metal porous sprayer can be restored to close to the original state.
Heat Resistance: The fully welded structure can withstand higher temperatures even in corrosive environments, and at the same time mechanical shock or thermal cycling has almost no effect on porous metals.
Saifilter's sintered porous metal sparger can serve a wide range of processing industries. The applications of our porous metal sparger in the processing industry include:
Introducing air into the fermentation process during the production of products such as beer and ethanol fuel.
Add carbon dioxide (CO2) to neutralize acidic waste in the papermaking process.
Aeration of sewage to increase microbial activity and speed up decomposition.
Introduce hydrogen in the refinery cracking operation.
Increase the oxygen content of fish and other aquatic organisms in the containment area.
Add ozone to the water treatment stream.
Introducing nitrogen, carbonated beverages, etc. into food.
Used in the production of wine, fruit juice and edible oil, where nitrogen injection replaces oxygen to increase product life.
Inject carbon dioxide or ammonia to adjust the pH in the waste or process stream.

The maximum size of the sintering sparger is only limited by the size of the equipment provided by the manufacturer. Usually, the maximum size is 350mm in diameter and 800mm in height. The sintered material is not limited to a cylindrical shape. It can be made into discs of various thicknesses.
When choosing a sintered metal filter, please consider the Pore size(particles size you want to keep out), Pressure drop( the loss of pressure that occurs as gasses or liquids flow through the filter), Temperature range, Strength, the flow rate through the filter, operating fluid, etc.
Yes, we are! We have ISO certificate and many patent awards certificates.