Stainless Steel Filter Cartridges | Filter Elements
What is the stainless steel filter cartridges? Stainless steel filter cartridges is a filter made up of some layers of stainless steel 304/316 mesh and have protective stainless steel cartridge filter housing. The middle mesh layer determines the filtration efficiency and is overlaid with outer and inner layers of coarser mesh to offer support and protection. These metal filter elements can be designed as plain cylindrical or pleated configurations to increase the filtration area. Working principle: The stainless steel filter cartridge will trap or block the impurities( such as chemical impurities and physical impurities.) in the fluid when the fluid flows through.
Wide Applications: Catalyst Recovery In Petrochemical / Chemical Industries; Oil Filter; Gas Filter; Hot Gas Filtration; fuel filter; Polymer Filtration; Hydraulic Oil Filtration; Cross Flow Filtration; Medical devices; Analytical Devices; Aerosol Application; R.O. Pre Filtration; Gas-Liquid Separation, etc.
Saifilter stainless steel filter manufacturer produces cleanable stainless steel filter elements based on the industrial standard and customer's customization. Our stainless steel filter cartridges can be wrought into tubes, cartridges or disks, flat cylinder shape, pleated or according to your diversification design requirements. The filter mediums can be sintered wire mesh, sintered metal fiber, and stainless steel woven mesh.
Main features:
High strength, High hypertonicity, lower original pressure drop; Great corrosion resistance, heat resistance, pressure resistance, and wear resistance
Stainless steel filter cartridges can be back washed & reused since there is no media migration
Corrosion Resistance to make it a suitable instrument that does not contaminate the passing fluid.
Suitable for harsh operation environments, including corrosivity conditions, high temperatures, or the place with poor system high pressure, and excellent product compatibility.
A good amount of application for the Stainless Steel Filter is on an industrial basis; they involve significantly high temperatures and pressure systems.
Gearbox and bearing lube oil filtration
The systemic design of a vehicle's gearbox makes oil and lubricants a significant requirement, which helps to relieve friction in the moving parts.
A specific function of the Stainless Steel Filter Cartridge is to enable proper filtration of impurities in the oil or lubricants that can cause damage to the vehicle.
Fuel nozzle protection in oil burners
Oil burners are essential in the heating of water, which is a frequent application in commercial and marine industries. The fuel from the storage tank passes through the preheater, then into the filter, and then the valve. The filter carries out a cleaning process to rid the fuel of impurities as it passes through. In conductions like this, we use the stainless steel filter cartridge to finish the fuel filter.
The filter is necessary to enable the contaminants to alter the entire system by adjusting the size of the nozzle, in other words changing the droplet size and altering the surface finish on the nozzle to change spray patterns.
Fluidized bed combustion (FBC)
This is a method of combustion effective in burning solid fuels.
Because of the sensitivity of the system, impurities can alter the entire chemical process. The stainless steel filter is effective in removing pollutants from the system.
Condensate water
In the system of power plants, the stability and reliability of the condensate water system are of utmost importance. The stainless steel filter helps to ensure wholesome functionality in the system by eliminating the main impurities in the system, which are iron and silicone.
Water treatment
Water is easily contaminated by dust, algae, chemicals, decaying sediments, organic matter, and rust. By allowing water to pass through the stainless steel filter cartridges, we can filter the water and make it free from contamination.
Seal protection
Because of how constantly the seal of industrial tools like refiners and pumps are in rotation, a dent of impurities may lead to a total collapse of the system. The stainless steel filter cartridge helps to rid the system of any impurity capable of causing significant damage to the system.
Pressurized gases
Industrial equipment usually get affected by dirt, oil, water, and other impurities in compressed air. The Stainless steel filter cartridge is effective in eliminating contaminants from the air under high pressure with a high success rate. The air passes through the filter and leaves back all impurities, producing cleaner air from the filter.
The stainless steel filter cartridge is useful for variants of experiments with large filtering areas and high filtration efficiency. To enable the filter cartridge to work at optimal conditions, you must periodically carry out specific methods of cleaning. Some of these methods include:
Ultrasonic Cleaning Method
In this cleaning method, some vacuum bubbles are generated via a cleaning liquid, usually the longitudinal wave. The impact force of the pressure drives the cleaning process of the stainless steel filter cartridge. It does this by exacting pressure on the bubbles until they burst.
 Reverse-water Cleaning Method
In this cleaning method, which is sometimes referred to as the backwashing method, an inert gas, usually nitrogen, backwashes the stainless steel filter in its opposite direction.
In the solution cleaning method, the stainless steel filter cartridge is soaked for about an hour in a 5 percent nitric acid solution or sodium hydroxide solution.  You can extend or shorten the soaking time base on the level of contamination and then dry it naturally with clean air.
Precautions:
You can clean some of the stainless steel filter element directly in the detergent solution but avoid soaking it for an extended period. Also, consider cleaning the filter layers.
Paper materials for filter layers cannot be cleaned with water.
The cleaning direction and the filtration direction are complete opposites.
Although stainless steel filter has an immense solid structure, using hard objects to clean the filter layers can cause wear.
Dissuade from using powerful acid or alkali when cleaning the stainless steel filter.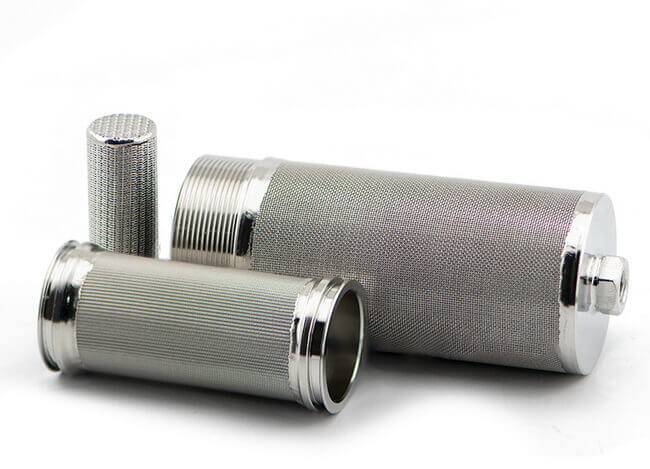 Stainless Steel Mesh Filter Cartridge
The stainless steel mesh is woven proportionally in plain weave patters and twill weave patters; it carries more delicate wires in the shute direction. The stainless steel mesh is usually rated by the dimension or size particle it holds; this is between two micro ratings, the nominal and absolute, both expressed in microns.
The wire mesh passes through a drawing machine after being formed under extremely high temperatures. The drawing machine further stretches the wire to provision. To ensure a complete range of aperture and properties for the patterns if the plain Dutch weave, we make it a priority to use stainless steel woven mesh 304, 304L, 316, 316L as filter media.
The wire mesh filter is durable and very resistant to wear; it also has a high filtration accuracy.
The filter wire cloth carries a wholesome and reliable anti-wear property, acid corrosion resistance, and heat resistance.
It also has a high resistance to acid and chemicals.
It works well and is excellently resistant to high temperatures.
It is used in filtering fluids that are highly acidic or alkaline without being damaged. For example, Oil industries use it as the mud filter and sieve strainer in the chemical fiber industries. The electroplating industry uses the stainless steel mesh filter cartridge for acid pickling.
The two main dimensions of the mesh showing the space and density of the wire mesh; you can name the two mesh dimensions by the high mesh and coarse mesh. The high mesh gets its description when it is more than 80 and the coarse mesh if it is less than 80.
Two main dimensions describe the diameter of the wire; they are the weft or warp dimension.
The main parameters include the common types of weaving, which are the Dutch weave, plain weave, double wire Dutch weave, and twill weave. Not only that, but they're also are other weaves like the five heddle weave and mat type twill weave
Pleated Stainless Steel Filter Cartridge
The pleated stainless steel mesh filter cartridges are usually made into the candle shape, to effectively increase the filter area and extend the replacement cycle. It is most commonly used in polymer melt industries and is usually equipped with an outer protective skeleton that can protect the medium and flows in reverse during cleaning (our polymer candle filters can be easily cleaned by the existing technology).
All of our stainless steel mesh filter elements can be easily reused through backwash, ultrasonic waves, or other non-corrosive cleaning technology to improve economic efficiency.
Features
Pleated constructions available
High differential pressures
High chemical compatibility
Resistant against high temperatures
316L FDA-approved material
Tig welded construction
Available with a wide variety of end caps
Saifilter stainless steel filter manufacturer produces different metal mesh filters with different micron ratings for different applications.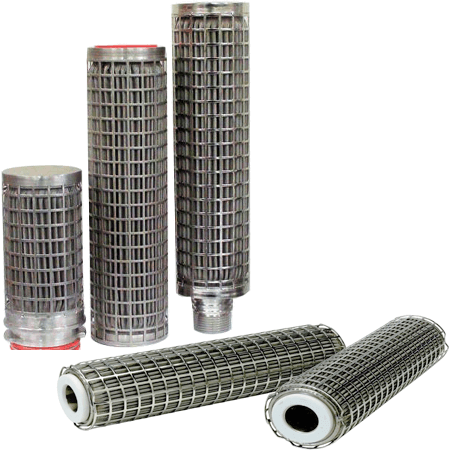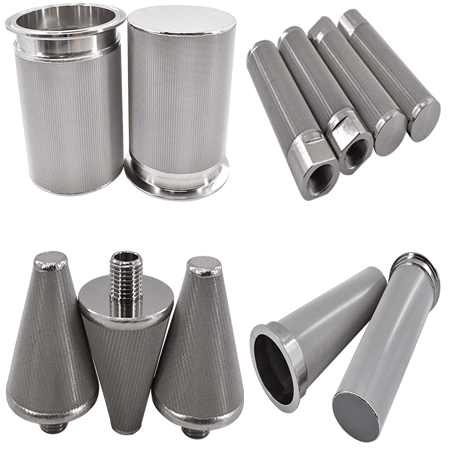 Stainless Steel Sintered Filter Cartridges
The sintered filter is divided into three major filter elements, which are the sintered felt filler element, sintered wire mesh filter element, and sintered metal powder filter element. The most widely used sintered filter in the industrial sector is the stainless steel mesh sintered filter. Pharmaceuticals, liquid and gas filtration, fluidized beds adopt the filter rating 1-250 for sintered mesh filter cartridges from stainless steel wire cloth.
Factors to consider in designing sintered stainless steel filters: It is advisable to consider the flow rate through the filter and particle retention when choosing a filter and, in most cases, the operating fluid and others. Our focus should be on its uses in defense, aerospace, and marine industries like hydraulic fluid filters and fuel filters. You will want to take into the following extra points when focusing on sintered metal filters, they include:
The size of the pore: The pore size is also referred to as the micron rating; it summaries the specific size particles you plan to keep out. The rating of a filter determines the particles blocked or allowed through. For instance, a filter rated 5 microns "absolute," blocks 99% of all particles over 5 microns in size. Whereas, specifying a 5 micron "nominal" rating indicates that a high percentage may be over 60% of 5-micron particles will pass through.
The drop in pressure: When gasses or liquids flow through the filter, a loss of pressure occurs; this loss of pressure is referred to as the pressure drop. Determine what your specific application allows and convey it to the filter manufacturer.
Temperature range: The metal alloy used in your filter must be able to accommodate or withstand the hot or cold temperature in your operating environment of filtration.
Strength: The strength of the sintered filter makes it reliable in cases where high strength is needed. They go far to provide the same level of strength in both forward or reverse flow.
Stainless Steel Filter Basket
Stainless steel mesh filter basket is a filter element for filter equipment, which is used to remove a small number of solid particles in the liquid, which consists of a connecting pipe, main pipe, filtration basket, flange, blind flange, and fastener, etc. When the liquid flows into the filtration basket through the main pipe, solid impurity particles are blocked in the filtration basket, but the clean liquid will flow through the basket and be discharged through sewage outfall. when it needs to be cleaned, unscrew the bottom plug of the main pipe, discharge the liquid and disassemble the blind flange, and assembly it again after cleaning.
Applications: Discharge Water Filtration; Process Water Filtration; coolants Filtration; Cutting Oils Filtration; Ink Filtration; Lubricant Filtration; Paint Filtration; Resin Filtration; Solvent Filtration; Bulk Chemical Filtration; Filtration for Parts Washing Systems; Filtration of Adhesives.
Stainless steel mesh Basket Strainers are useful as pre-filters for the collection of gross contaminants found in a range of industrial liquid filtration applications.
Each 316 stainless steel basket strainer features a permanent handle for easy installation, removal, and cleaning.
Stainless steel filter baskets are easy to install and maintain, and due to cleaning more cost-efficient than disposable filters.
They are the replacements for the bag filters and have multiple layers of stainless steel in uniform bond.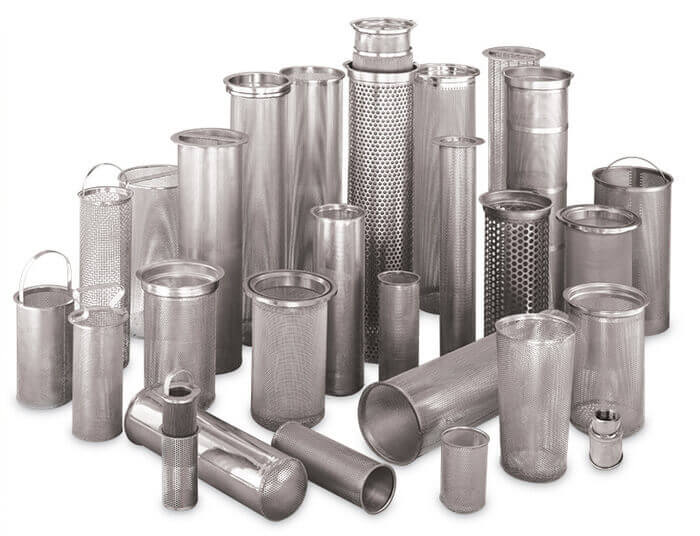 When you want to buy stainless steel filter elements for your industrial filtration needs. How to choose a reliable supplier? Here are several reasons for choosing Saifilter filter manufacturer:
Saifilter Stainless Steel Filter Elements Offer Various Assembly Technology
The production costs of wire mesh filters using glued structures technology are lower, but it can offer enough strength to many high-pressure applications. The epoxy resin bonding structure is the ideal choice for most fluid applications.
The production of stainless filter elements using hemming and welding technology can overcome the temperature and compatibility limitations of cellulose or synthetic fiber boxes. When the application of extreme temperature ranges breaks the traditional glue-structured elements, we anneal all sintered metal filter elements to minimize the possibility of element failure due to a combined influence of intergranular corrosion and high pressure.
All the components of the sintered mesh filter are made of 304 or 316 stainless steel. These components can be used in a higher temperature environment, and are suitable for harsh environmental applications related to extreme temperature, high pressure, and corrosive fluid.
Each component has been permanently marked by laser for easy identification and retrospect.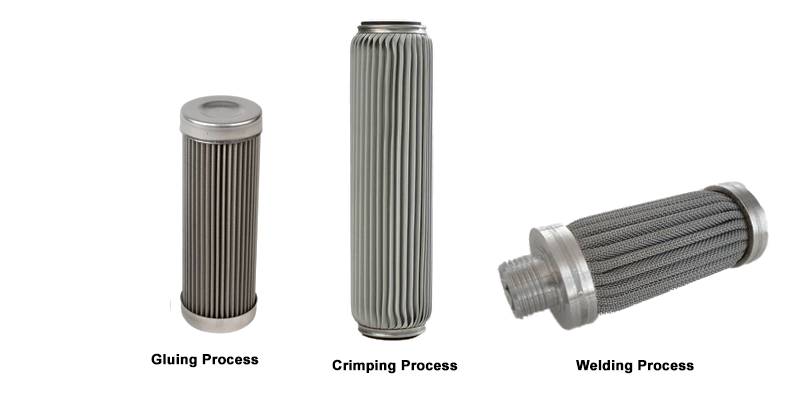 Available Stainless steel filter mesh Options:
Our filter mediums are available in a variety of alloys and multilayer sizes from 2 to 6 layers. The main configuration of the port has the following way
Pleated 304SS or 316SS
Cylindrical 304SS or 316SS
DOE, 222, 226 or 1" NPT end configurations
Buna, Viton or Teflon Seals
10", 20", 30" and 40" lengths
Standard interface (such as 222,220,226)
Fast interface connection
Flanged joint
Threaded connection
Tailor-made connection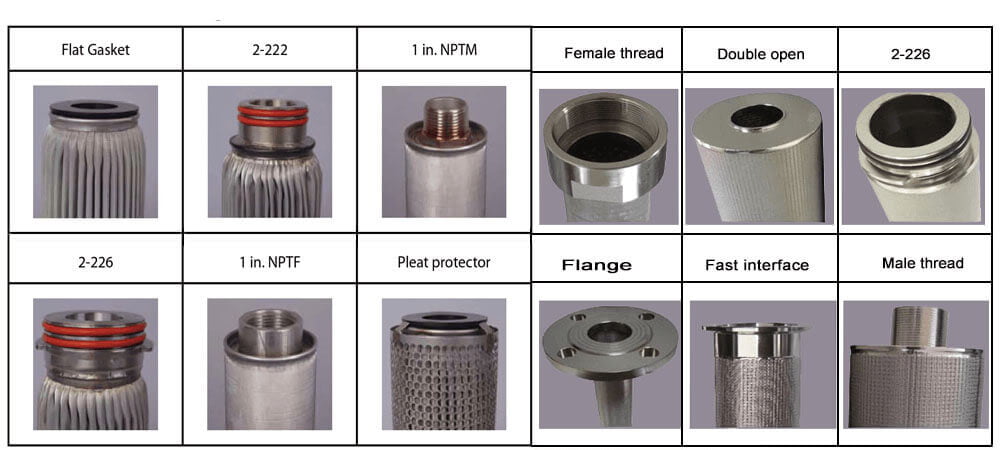 Laser Marked End Connector
Each component has been permanently marked by laser for easy identification and retrospect.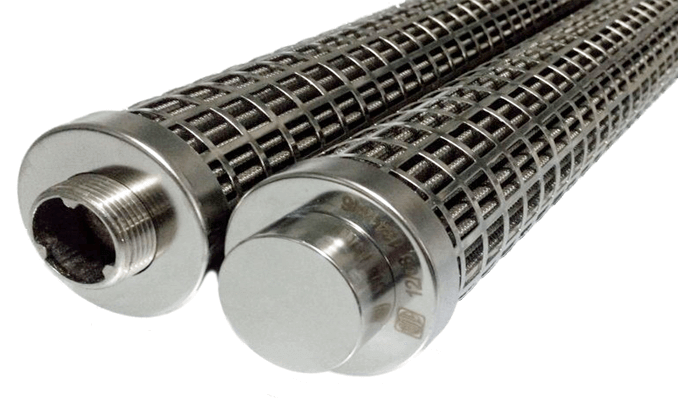 Each polymer filter element has taken a test of bubble point and airflow before shipping to ensure the integrity and performance of the products.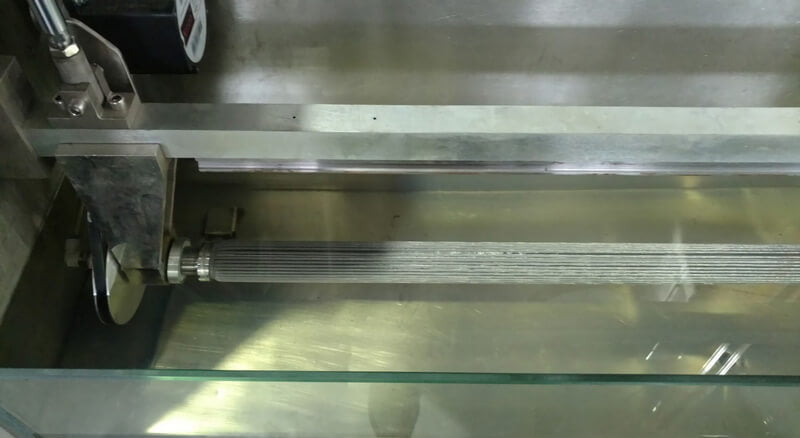 Yes.design filter levels, run parameters, dimensions and styles by working closely with customers.
From initial conceptual design to manufacturing and validation to service support, our team of experienced professional engineers is dedicated to developing the best filtration solutions.
Each of our filter cartridges or filtration systems is fully qualified to meet the specified requirements, all of which are documented as a recognition of the quality of our work.
Yes, we have ISO certificate and patent certificate.