Stainless Steel Filter Cartridges | Filter Elements
What is the stainless steel filter cartridges? Stainless steel filter cartridges are also named as stainless steel filter elements, they are made up of some layers of stainless steel 304/316 mesh and have protective stainless steel water filter housings. The middle mesh layer determines the filtration efficiency and is overlaid with outer and inner layers of coarser mesh to offer support and protection. These metal filter elements can be designed as plain cylindrical or pleated configurations to increase the filtration area.
Wide Applications: Catalyst Recovery In Petrochemical / Chemical Industries; Oil Filter; Gas Filter; Hot Gas Filtration; fuel filter; Polymer Filtration; Hydraulic Oil Filtration; Cross Flow Filtration; Medical devices; Analytical Devices; Aerosol Application; R.O. Pre Filtration; Gas-Liquid Separation, etc.
Saifilter stainless steel filter manufacturer produces cleanable stainless steel filter elements based on the industrial standard and customer's customization. Our stainless steel cartridges can be wrought into tubes, cartridges or disks, flat cylinder shape, pleated or according to your diversification design requirements. The filter mediums can be sintered wire mesh, sintered metal fiber, and stainless steel woven mesh.
Main features:
High strength, High hypertonicity, lower original pressure drop; Great corrosion resistance, heat resistance, pressure resistance, and wear resistance
Stainless steel filter cartridges can be back washed & reused since there is no media migration
Corrosion Resistance to make it a suitable instrument that does not contaminate the passing fluid.
Suitable for harsh operation environments, including corrosivity conditions, high temperatures, or the place with poor system high pressure, and excellent product compatibility.
Sintered Stainless Steel Mesh Pleated Filter Cartridge
The pleated stainless steel mesh filter cartridges are usually made into the candle shape, effectively increase the filter area and extend the replacement cycle. It is most commonly used in polymer melt industries and is usually equipped with an outer protective skeleton that can protect the medium and flows in reverse during cleaning (our polymer candle filters can be easily cleaned by the existing technology).
All of our stainless steel filter mesh elements can be easily reused through backwash, ultrasonic wave or other non-corrosive cleaning technology to improve the economic efficiency.
Features
Pleated constructions available
High differential pressures
High chemical compatibility
Resistant against high temperatures
316L FDA-approved material
TiG welded construction
Available with wide variety of end caps
No extractables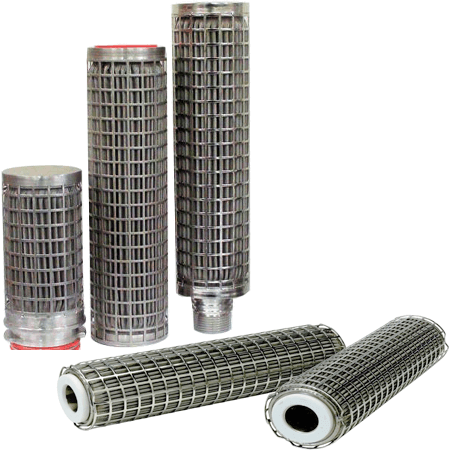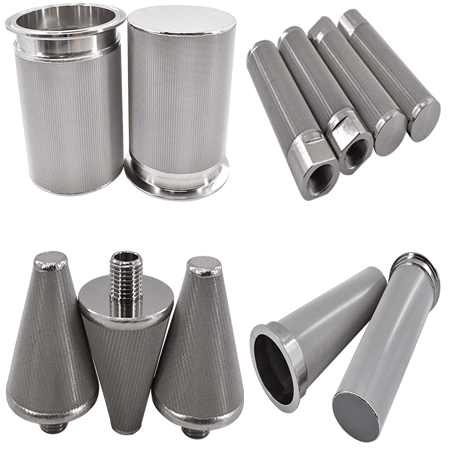 The flat cylindrical sintered metal Mesh filter element
It always uses the rigid porous metal medium sintered by multilayer woven wire meshes. This medium has excellent self-supporting medical properties that can eliminate the expensive inner supporting core of filter elements.
Saifilter elements are cylindrical surface type filters, which can achieve high-efficiency through the accumulation of filter cakes and are suitable for backwash and repeated cleaning.These components can also be used in our industrial candle filter assemblies.
Features
The filter element is made of 304 or 316 stainless steel mesh sintered material
stainless steel wire cloth materialGrid pattern - checkered weave, twill weave, plain Dutch weave
Various mesh sizes are available
long lasting
Stainless steel filter elements can offer various assembly technology
The production costs of wire mesh filters using glued structures technology are lower, but it can offer enough strength to many high-pressure applications. The epoxy resin bonding structure is the ideal choice for most fluid applications.
The production of stainless filter elements using hemming and welding technology can overcome the temperature and compatibility limitations of cellulose or synthetic fiber boxes. When the application of extreme temperature ranges breaks the traditional glue-structured elements, we anneal all sintered metal filter elements to minimize the possibility of element failure due to a combined influence of intergranular corrosion and high pressure.
All the components of the sintered mesh filter are made of 304 or 316 stainless steel. These components can be used in a higher temperature environment, and are suitable for harsh environmental applications related to extreme temperature, high pressure, and corrosive fluid.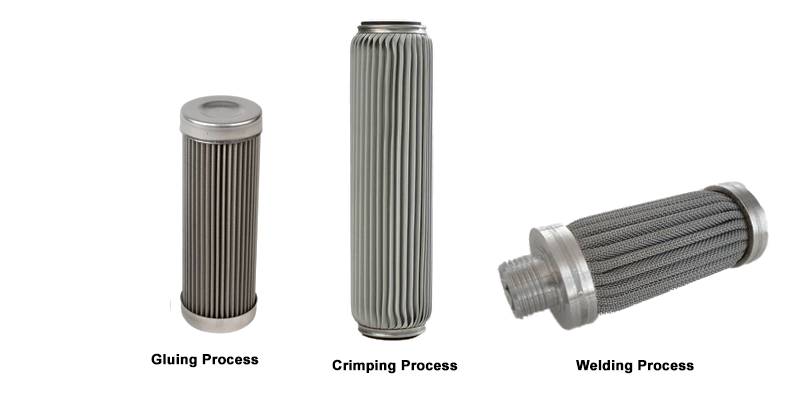 Available Stainless steel filter mesh Options:
Our filter mediums are available in a variety of alloys and multilayer sizes from 2 to 6 layers. The main configuration of the port has the following way
Pleated 304SS or 316SS
Cylindrical 304SS or 316SS
DOE, 222, 226 or 1" NPT end configurations
Buna, Viton or Teflon Seals
10", 20", 30" and 40" lengths
Standard interface (such as 222,220,226)
Fast interface connection
Flanged joint
Threaded connection
Tailor-made connection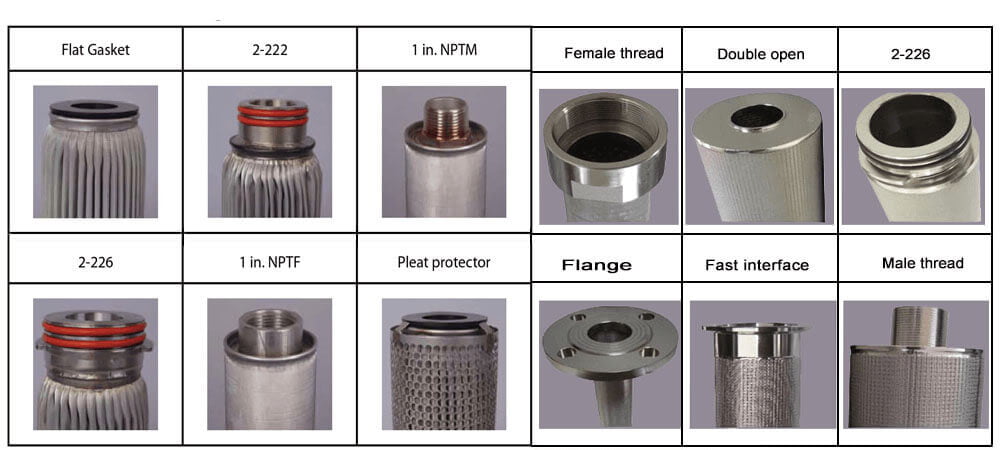 The laser marked end connector
Each component has been permanently marked by laser for easy identification and retrospect.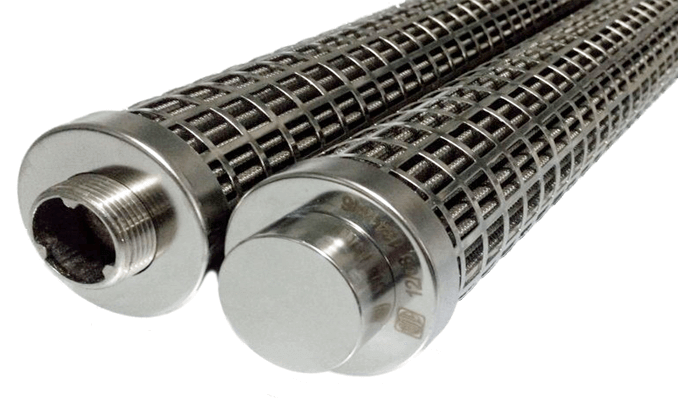 Each polymer filter element has taken a test of bubble point and airflow before shipping to ensure the integrity and performance of the products.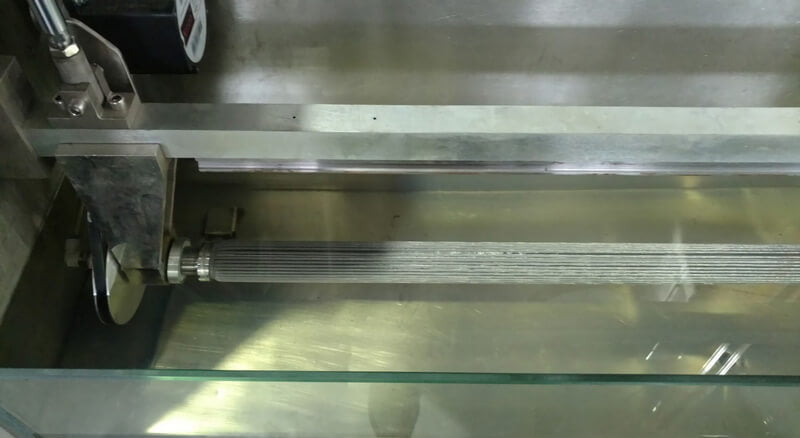 sintered metal mesh filter Chief application industries:
Aerospace and national defense
Nuke industry
Fook and drink
Bio-pharmaceuticals
Chemical industry polymer
Yes.design filter levels, run parameters, dimensions and styles by working closely with customers.
From initial conceptual design to manufacturing and validation to service support, our team of experienced professional engineers is dedicated to developing the best filtration solutions.
Each of our filter cartridges or filtration systems is fully qualified to meet the specified requirements, all of which are documented as a recognition of the quality of our work.
Yes, we have ISO certificate and patent certificate.