Metal Filter Disc | Stainless Steel Filter Disc
Filter Discs are designed to offer you a compact filter element for reliable filtration protection. To meet different application requirements, Saifilter industrial filter manufacturer provides custom metal filter discs in both flat, pleated, sintered versions.
The metal filter discs can be divided into tabular ones and pleated ones from the appearance shape, in which the pleated filter discs can increase the surface area. The non-pleated filter discs can be made according to the requirement. The disc mediums can be made of woven wire mesh, sintered wire mesh, sintered metal fiber, and sintered metal powder. So that we can offer the best solution according to your application.
Saifilter industrial filter supplier produces custom metal mesh filter discs according to the information you offered. Single-deck or multilayer woven meshes are parceled in the aluminum conjugates. The frame package with a rigid form contributes to control the flatness of the package and improve its own airtightness and consistency to meet your specific applied requirement.
The design and production of metal mesh filter discs are aimed at providing filter protection to liquid and gas flow systems. These cost-effective wire mesh filter discs provide a significant increase of filter area for a similar installment. The sealed packages are used to give an ultrasonic clean to ensure every mesh filter disc is not polluted and can be installed at any time.
These lightweight stainless steel filter discs are capable of operating with a variety of fuids at temperatures from-270-450°C (-454-842°F), and with differential pressures up to 3bar (43psi).
Metal mesh filters are available in two distinct types, rimmed and unrimmed.
Custom Options
Materials: aluminum, brass, copper, stainless steel mesh filter discs, and other alloys
Shapes: the plain weave of the square, rectangle, circle, and oval
Woven types: twill weave, Dutch weave, Plain Dutch weave, Twill Dutch weave
Customized diameter: 15-450mm
Gridding size: 10-500 grids
Accuracy class: 10-300µm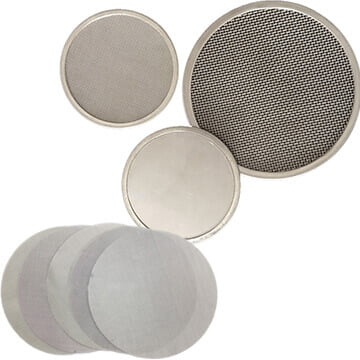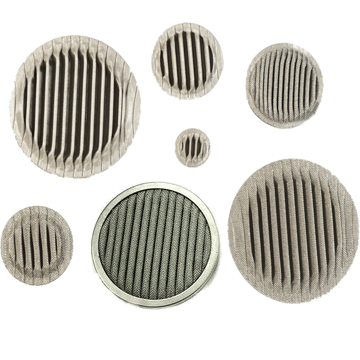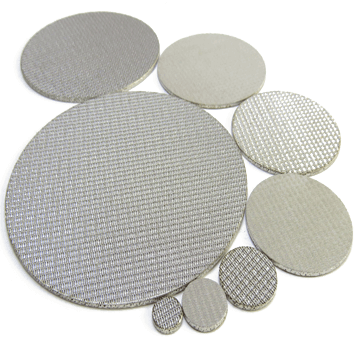 Pleated filter disc and sintered metal filter disc
The pleated filter disc is produced woven wire meshes of multilayer precision or sintered wire meshes. Sintered disc filter adopts the combination of innovating process and excellent materials to manufacture the product that meet the requirements.  After precise stamping and laser cutting, the processing quality is high. The flat types and pleated types are provided to meet the needs. The flat sintered stainless steel filter disc applies to the applications with a wide space range and limited expected pollutant.
For those systems that need larger filter area or lower pressure drop but still within the available floor space, we offer the pleated discs. Both designs provide or do not provide the sealed edge. The rimmed pleated filter disc ring can form a tiny seal on the front of the flange between the discs under pressure, which makes it easy to be installed. The discs are allowed to meet the needs of many different applications and have comprehensive filter classes to adapt various operating conditions.
Selection Range
Materials: SS304/316 and other customized alloys
Shapes: square, rectangle, circle, ellipse, circle, etc.
Medium types: Arbitrary composite constructions of 1-5 layers metal mesh
Customized diameter: 10.5-360mm
Accuracy class: 10-240µm
Polymer Leaf Disc Filters
Leaf disc and fixed plate filter designs are mainly applied in the recycle of catalyst and the filter of hot melt polymers, such as the production of PET packaging film and the thin film. These filters designed to achieve better gel control on the filter by offering smoother flow.
In addition to providing all kinds of filter mediums, Saifilter's leaf disc filters also have the latest design functions to ensure the lowest pressure drop and longer service life. The firm structure allows for more cleaning cycles, reducing the overall lifetime costs.
These filter mediums are multilayer composite materials made by sintered woven wire meshes/fiber metal felt. According to our rich experience and extensive filter medium, the application and design engineers can custom-make and design the best filter medium for each kind of product and process, including the technical support in the design process. So better product performance can be achieved.
Selection Range
Materials: SS304/316 and other customized alloys
Shapes: circle
Medium types: sintered metal fiber, sintered wire mesh
Standard diameters: 180mm, 254mm, 305mm, and other customized sizes
Accuracy class: 3-150µm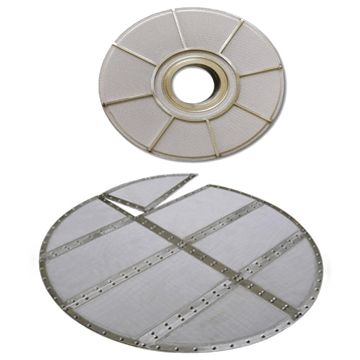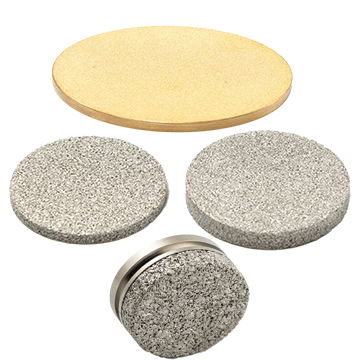 Sintered powder filter discs
Comminuted steel shot medium is strong in use, has high shear resistance, and is usually in combination with loose filter materials (such as fragmentized metal). All filter discs can be equipped with integrated sealing washer. Another kind of filter discs can be made by sintered bronze powder and other customized shapes to adapt to any specific packing case.
All kinds of metal powder filter discs ranging from 10 mm (0.4 inches) to 230 mm (9 in) in diameter have a wide range of thickness. Disc sizes and tolerances are dependent on the material, micron grade and the density requirements.
Powder metallurgy technology is used to produce porous discs with interconnection porosity and density of 35% to 75%. The porous sintered metal discs have various standard micron sizes, with aperture sizes ranging from 0.3 to 200 microns. The porosity of the disc consists of a wide pore size distribution centered around a mean.
Yes.design filter levels, run parameters, dimensions and styles by working closely with customers.
From initial conceptual design to manufacturing and validation to service support, our team of experienced professional engineers is dedicated to developing the best filtration solutions.
Each of our filter cartridges or filtration systems is fully qualified to meet the specified requirements, all of which are documented as a recognition of the quality of our work.
Yes, we have ISO certificate and patent certificate.