Automatic Self Cleaning Filter | Self Cleaning Water Filter
What is an Automatic self cleaning filter system? Automatic self-cleaning filter (also known as automatic backwash filter) is the best solution for continuous separation of solid particles in Gas, Oil, Water, and Waste Water Treatment plants.This self cleaning filter system eliminates the need for replacement cartridges by having a backwash system that can be controlled either fully automatically or semi-automatically depending on the model. A self cleaning strainer can intercept impurities directly through filter mesh to remove the suspended substance and solid particles in the water (The liquid to be filtered can be different: well water, sea water, ground water, surface water, river water, crude oil, fuel oil, etc.), decrease turbidity and reduce the generation of dirt, bacteria and algae and corrosion so as to ensure that other instruments in the system are in normal operation with the water cleaned. (Self cleaning filter can clear the suspended particles ranging from 10 microns to 1,200 microns.)
The traditional industrial filter systems have a low dirty-hold ability since the mesh filters are easily blocked. They can only be washed and cleaned by dismounting the filter part. Besides, the filters can't be monitored to ensure their condition. As you can see, automatic self-cleaning water filters overcome all these problems. After filtering the raw water, it can use the unlimited amount of water supplied during this process to automatically clean the filter element. Last but not the least, it is highly automated and has a monitored working status.
Saifilter's automatic self-cleaning filter system can protect pipes and equipment from the erosion of scale accumulation and prevent excessive loss of water flow in the pumping system to reduce pollutant deposition and nozzle plugging leading to poor pump efficiency. Moreover, automatic self cleaning filter will help you reduce the labor and water costs since this filtration system doesn't need any manual flushing and cleaning and it uses the precise amount needed. Contact Saifilter industrial filter manufacturer for custom filtration solutions!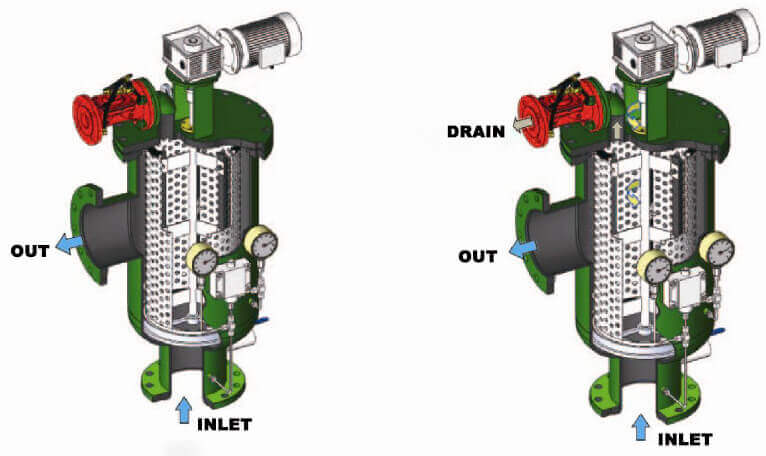 Automatic Self Cleaning Filter Working Principle
Filtration Process: the media flows into the strainer from the inlet and through the screen, then the clean water flows out from the outlet. Impurities accumulate to form the filter cakes on the inner surface of screens, at the same time, the pressure difference between the inner of screens and the exterior of screens is formed gradually. When the differential pressure reaches a set value such as 0.3Bar,the pressure sensor will send a signal to the controller to the PLC (program logic control).
Self-cleaning Process: when the pressure difference reaches default value, the signal is sent to PLC (program logic control) by differential pressure switch; when PLC drives the motor, the shaft begins to rotate, then the rotating brush can clean the impurities away from the inner surface of screens. At the same time, the drain valve is opened by PLC, the impurities are discharged from the drain valve by system inner pressure. The entire backwashing process is automatically finished within only a few seconds, and the main water flow will not be interrupted in the self-cleaning process.
Self Cleaning Filter Applications
The automatic self-cleaning filter system is mainly used in terms of water purification. And it can be used for water filtration, water treatment, and water transformation in industries, agriculture, power, electronics, medicine, food, printing and dyeing, construction, steel, metallurgy, papermaking, coal mine, swimming pool, landscape, greening, and other industries, especially in the field of microfiltration in the procession of high water quality requirements. Using its various functions, the automatic self cleaning strainer can remove many kinds of impurities to achieve the purpose of water purification, such as silt and biological silt, clay, rust and corrosion products, suspended matter, algae, and bacteria with high molecular, organics and other small matter.
Below are Four Series of Automatic Self Cleaning Filter we offer. Note: Custom self-cleaning filter design solutions are available for unique applications. Please contact us and write to us regarding your specifications and your project needs.
ET Series Self Auto Clean Filter System
Auto Cleaning Filter Characteristics
Flow Rate: 650-9300 m³/h
Working Pressure: 10 bar/16 bar/25 bar
Pressure loss:< 0.1 bar
Screen openings (micron):25-2000μm
Temperature: 20~ 85 °C or Customized
Flush Cycle Duration: 15-45 seconds
Filter housing material:Carbon steel ST37-2/SS304/SS316
Rated operating voltage:3ph AC220/380V/440 /50/60Hz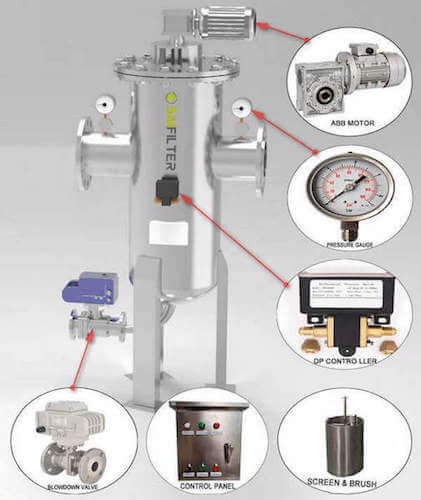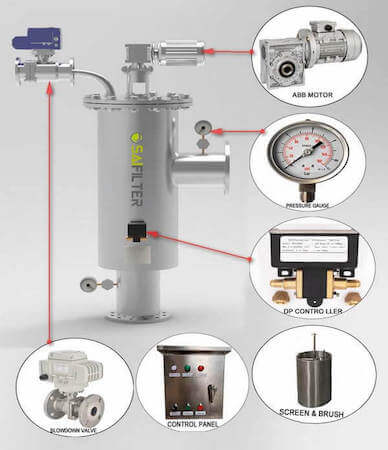 EL Series Automatic Self Cleaning Strainer
     Auto Backwash Strainer Characteristics
Flow Rate: 25-2800 m³/h
Working Pressure: 10 bar/16 bar/25 bar
Pressure loss:< 0.1 bar
Screen openings (micron):25-2000μm
Temperature: 20~ 85 °C or Customized
Flush Cycle Duration: 15-45 seconds
Filter housing material:Carbon steel ST37-2/SS304/SS316
Rated operating voltage:3ph AC220/380V/440 /50/60Hz
EY Series- Self Cleaning Filter Systems
    Self Cleaning Filter Characteristics
Flow Rate: 25-1200 m³/h
Working Pressure: 10 bar/16 bar/25 bar
Pressure loss:< 0.1 bar
Screen openings (micron):25-2000μm
Temperature: 20~ 85 °C or Customized
Flush Cycle Duration: 15-45 seconds
Filter housing material:Carbon steel ST37-2/SS304/SS316
Rated operating voltage:3ph AC220/380V/440 /50/60Hz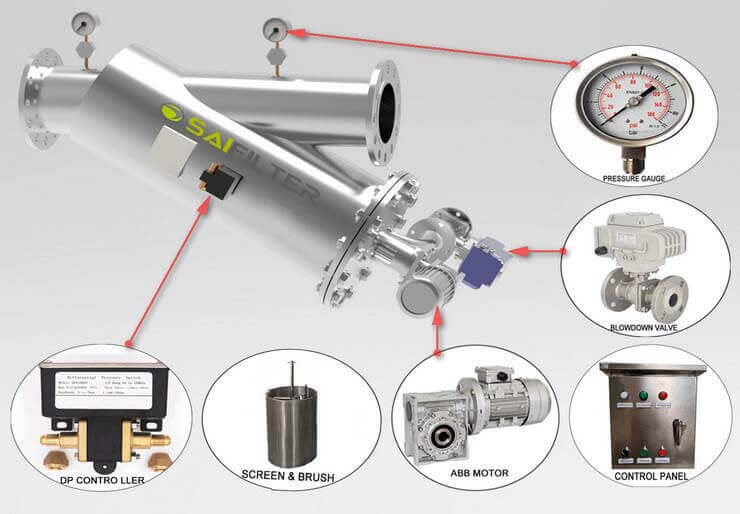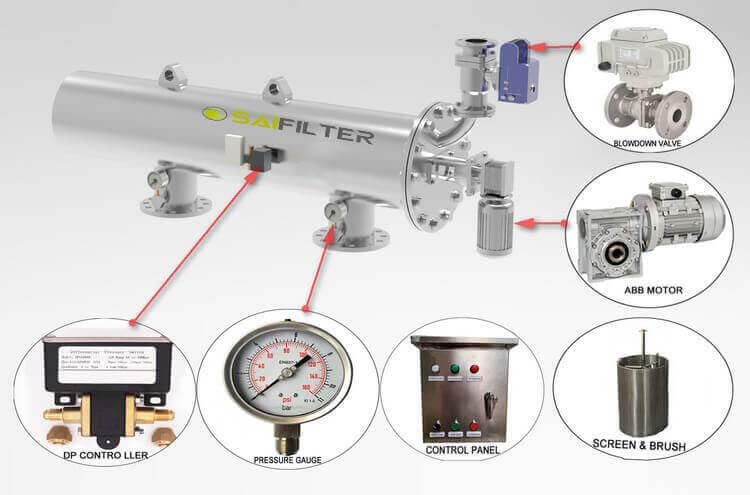 EM Series- Auto Self Cleaning Filter Systems
     Self Cleaning Filter Characteristics
Flow Rate: 80-1200 m³/h
Working Pressure: 10 bar/16 bar/25 bar
Pressure loss:< 0.1 bar
Screen openings (micron):25-2000μm
Temperature: 20~ 85 °C or Customized
Flush Cycle Duration: 15-45 seconds
Filter housing material:Carbon steel ST37-2/SS304/SS316
Rated operating voltage:3ph AC220/380V/440 /50/60Hz
Main Configuration of Automatic Self Cleaning Filter System
The construction materials of self cleaning filter can be cast iron, carbon steel, stainless steel, or special austenitic ferritic steel, such as Super Duplex, Duplex, Titanium, and Nickel Alloy. All our auto backwash filters are designed according to all international design codes (such as BS, ASME, VSR, etc.).
Every automatic self-cleaning filter consists of self cleaning water filter house, multiple filters, backwash system, control panel, electric cabinet, reduction box, electric valve, and differential pressure controller. The diaphragm in the housing divides the whole cavity into the upper part and lower one. In the upper cavity, there are many filter cores equipped, which take full use of filtering space with filter volume greatly reduced. The lower one has a backwashing suction cap installed. When it's working, the muddy fluid flows into the lower cavity of the filter from its inlet, passes through the diaphragm, and then gets into the intracavity of the filter core. Based on the fact that impurities larger than the gap of the filter core will be intercepted, the cleaning fluid will pass through the gap arriving upper cavity and finally flow out of the outlet.
Note: We get all the main electrical components from ABB company. They have intellectualized design and available highest quality. According to different application requirements, the core filter elements can be respectively wedge-shaped wire mesh and sintered composite metal mesh different from competitors' PVC elements. Each component is fused to form a whole and has strong durability.
Pretreatment of Self Cleaning Filter for Water
The pretreatment of water filtration is to reduce suspended and colloid contents in water to a certain extent or remove them directly to meet the general water requirements. Usually, there are three steps in terms of pretreatment of an automatic self cleaning water filter system:
Sedimentation
Through natural sedimentation such as grit chamber or medicine soften such as chemical agent, silt and large suspended particles will become harder temporarily and then formed sediments to settle at the bottom.
Filtration
Impurities in the treated water will be intercepted and removed by granular filter material. The left part is the cleaned water. This step can be done in various kinds of filter chambers and filters.
Coagulation and clarification
With the help of coagulant, the size, shape, and density of solid particles in the water will be changed to separate itself from water.
Major Advantages of Auto Self Cleaning Filter System
Self-cleaning time is short: Based on the automatic backwash of differential pressure devices, pressure control, and electric control options, the time of the self-cleaning cycle is short. It usually takes only 5-30 seconds to complete a backwash cycle, compared to other filtration methods, taking several hours to complete the cleaning process probably.
The bottom of the automatic self-cleaning filter is equipped with a centrifugal disk, which can generate vortex with centrifugal force formed. In this way, the solid particles can be far away from the filter disk and gather on the top of the filter with the aim of a lower cleaning frequency.
During backwashing, the four columns in the center of the self cleaning water filter core spray water in a tangential direction to strike the disk and make it rotated. Then the dirt on the disk will separate from the disk with the help of centrifugal force, which is convenient for cleaning with lower cleaning time.
The shell is made of ABS or nylon engineering plastics, which is resistant to acid and alkali corrosion and has strong impact resistance.
With a larger diameter, disks will provide a larger filtering area compared with the same quantity of disks which has a normal diameter. And in this way, the filtration capacity will increase.
The inner structure of the auto clean filter accords with hydraulic characteristics and has a streamlined structure, which can reduce water loss and energy consumption.
The unique integral forming and processing technology of the filter shell avoids all kinds of dripping and leakage caused by the welding of the steel filter shell; the high-strength ductile iron material has excellent corrosion resistance and prolongs its service life;
With proprietary filter design and manufacturing technology, its high-precision filter will never wear;
It is controlled by a reliable intelligent system. our automatic self cleaning water filter system has achieved automatic operation of filtration, cleaning, and sewage discharge to realize unattended and uninterrupted water supply;
Automatic self cleaning strainer's advanced in the product structure and function design. It has a compact structure with a large filtration area. It's outstanding in high dirty hold capacity, small pressure loss of pipeline, and low power consumption.
How to control has been optimized. Now it only takes short time to finish backwashing. And it reduces water consumed in sewage discharge to save water.
The product line covers the range of flow and precision. It has a variety of structural forms to adapt to the complex working conditions;
Each parameter can be adjusted based on the real working condition. Its operation is very easy without the need of maintenance. It also has a long working life.
The filter precision is 100 μ m by default, and can be changed from 10 μ m to 3000 μ m. the filter area is large and the pollution capacity is high. Users can customize it according to the actual working conditions.
It's very easy to clean a self cleaning water filter. The whole cleaning process is monitored to achieve automatic cleaning and sewage discharge. All parameters in the automatic self-cleaning filter control system can be adjusted.
The motor overload protection can help protect the motor effectively.
It is characterized by uninterrupted water supply and no bypass when cleaning and discharging. The cleaning time is short. And the water consumption of sewage is less than 1% of the total flow.
It is easy and convenient to maintain, install, and dismount the self cleaning water filters.
The connection mode with the user's pipeline is the national standard flange connection which has strong universality.
Matters Needing Attention When Use Self Cleaning Water Filter System
The self cleaning filter equipment should be installed in a by-pass way to overhaul and maintain it without downtime.
The auto clean filter equipment can be installed horizontally or vertically based on the real situation. It must be connected with piles according to the direction of the outlet and inlet. While installed vertically, the inlet should be up. And in the case of horizontal installation, the drain outlet ought to be down.
Valves shall be installed at the water inlet, outlet, and drain outlet of the equipment (the blowdown valve shall be a quick one).
The net distance between the self cleaning strainer equipment should not be less than 1500mm; the net distance between the equipment and the wall should not be less than 1000mm; the maintenance space between the equipment and the surrounding should not be less than 500mm.
The pipe support ought to be set near the pipe orifice on the equipment inlet and outlet pipeline; the support is suggested to be set under the valve equal to or even larger than DN 150 which is directly connected with the vessel pipe orifice.
Why Choose Saifilter Industrial Filter Manufacturer?
Saifilter self cleaning filters manufacturer produces quality automatic self cleaning filtration systems to meet your needs for liquid filtration in various industries. You can choose automatic backwash filter system from our standard self-cleaning filter system catalog, or get custom self cleaning filter systems from us based on your design and drawing specifications.
We can provide a quotation of the day for most projects, individually providing customized filtration solutions for each project's requirements of automatic self cleaning filters. Our engineers can help you from the preliminary design and quotation stage to installation and start-up, and then to normal operation. As for competitive pricing, we can provide OEM/ dealer pricing and volume purchase agreements in accordance with the requests.
Customizable filtration solution: Saifilter industrial filter manufacturer can provide self cleaning filters for liquids with different sizes, directions,  and various filtering precision to meet any application requirements of you according to the application requirements of customers.
High standard material and competitive price: Saifilter self cleaning strainer company has our own manufacturing facilities in China, we have advantages in some raw materials and labor, so we can offer the most affordable factory direct price for you.
We can provide the best auto self-cleaning filtering system suitable for your practical needs according to your specific parameters. Please send us more detailed information as follows:
1. The name of the filter media?
2. Flow rate?
3. Liquid viscosity?
4. Filter rating?
5. Working pressure?
6. Working temperature?
7. Impurity content and nature(solid or soft)?
8. Connection size?
9. Housing material?
10. Do you need explosion protection?
11. Type of discharging valve? electric valve? or pneumatic ball valve?
Then Saifilter will offer you our best price ASAP.