Stainless Steel Mesh Filter
Saifilter offers stainless steel mesh filters in 304 or 316L stainless steel. Stainless steel wire mesh filters are available in a variety of configurations, including Stainless Steel Filter Cartridges. Because the material properties of stainless steel mesh are more flexible, we can customize it in any shape according to the customer's specific application needs. For high-purity industrial filtration applications for special water treatment, Saifilter offers a wide range of apertures from 1-5 micron stainless steel mesh filters or 100 mesh filter screens.
Saifilter's wire mesh filter screens are suitable for various applications that require different aperture sizes. These stainless steel mesh filter cartridges can be combined with perforated metal or porous metal woven mesh for versatile configurations. Even in corrosive operating environments, the wire mesh filter screen can maintain its integrity and interception efficiency.
We offer single-layer or multi-layer combinations of stainless steel filter screens, aiming to meet various customer needs for filtration applications of different sizes. Standard weave options include plain, twill, and Dutch weave patterns.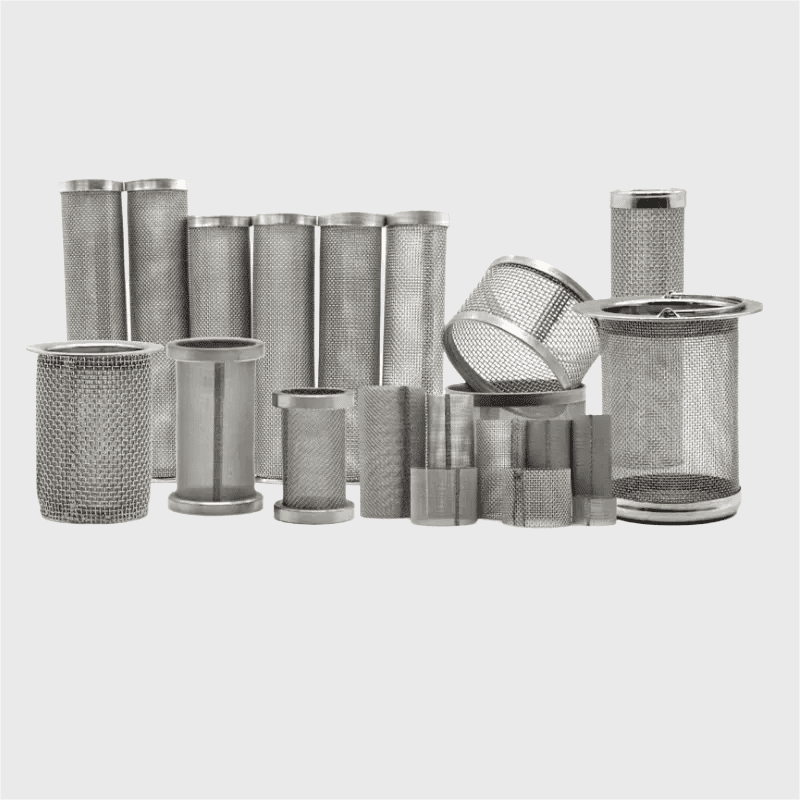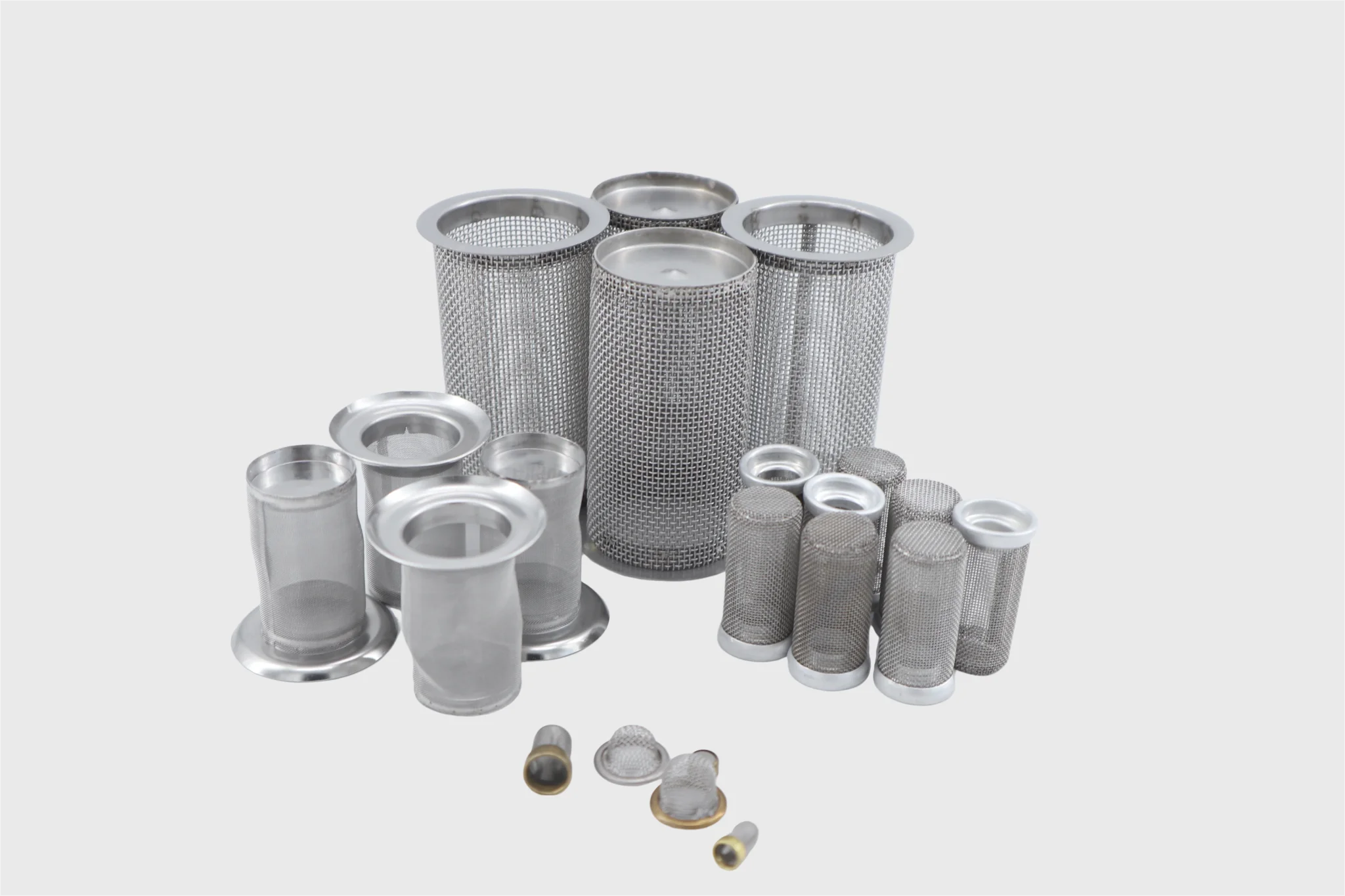 Different customers have different requirements for manufacturing processes. These woven wire mesh filters can be manufactured by stamping, sintering, resistance welding, CNC, TIG welding, and micro-welding processes to meet customer needs. Whether it's a fine chemical process or a heavy industrial fluid application, our stainless steel mesh filters prevent chips, burrs, and wear particles from damaging your fluid system with long-lasting durability and particulate interception efficiency.
In the environment of various pumps, in order to prevent the pump from blocking or damaging the impeller, we specially designed the mesh filter screen for pump and the mesh filter screen for pipe. They can effectively intercept and remove impurities from liquid systems.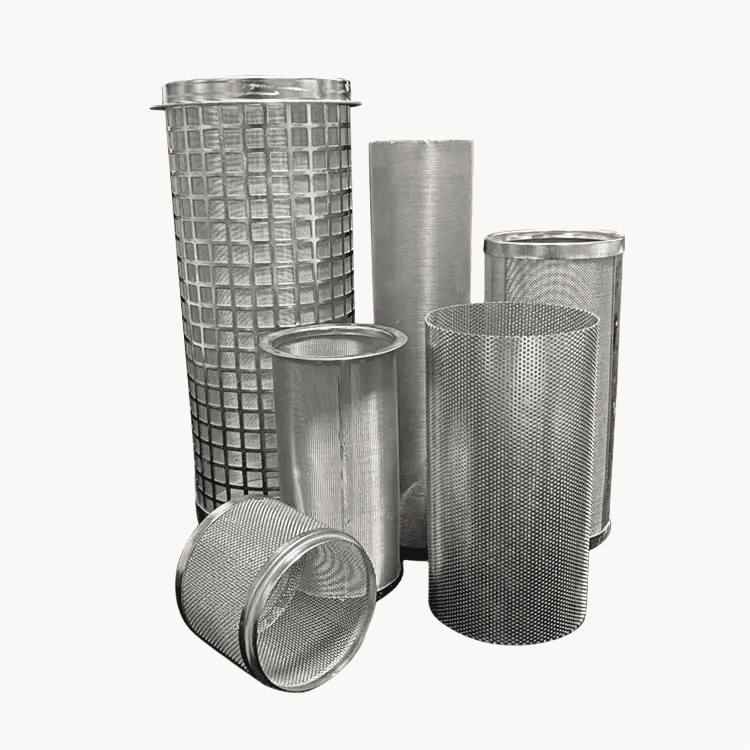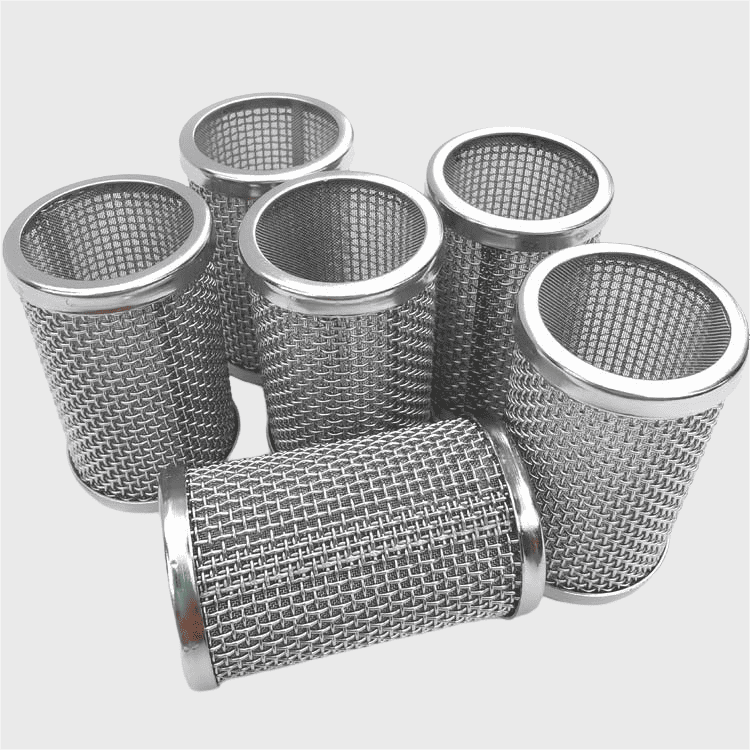 Woven steel wire mesh is a low-cost and highly efficient filtration medium, with a micrometer-level range between 1 and 2000 micrometers. Because parameters such as wire diameter, mesh count, and weaving pattern of woven wire mesh are fully customizable, it comes in PW (plain) and TW (twill) square weaves, as well as PDW (plain Dutch) and TDW (twilled Dutch) Dutch weaves.
The sintered mesh made of woven wire mesh with different meshes by vacuum high-temperature firing has high mechanical strength and uniform pore size, and the micron scale ranges from 1 to 100 microns. Sintered wire mesh filter media provide absolute retention ratings across a wide range of degrees of filtration for liquids and gases.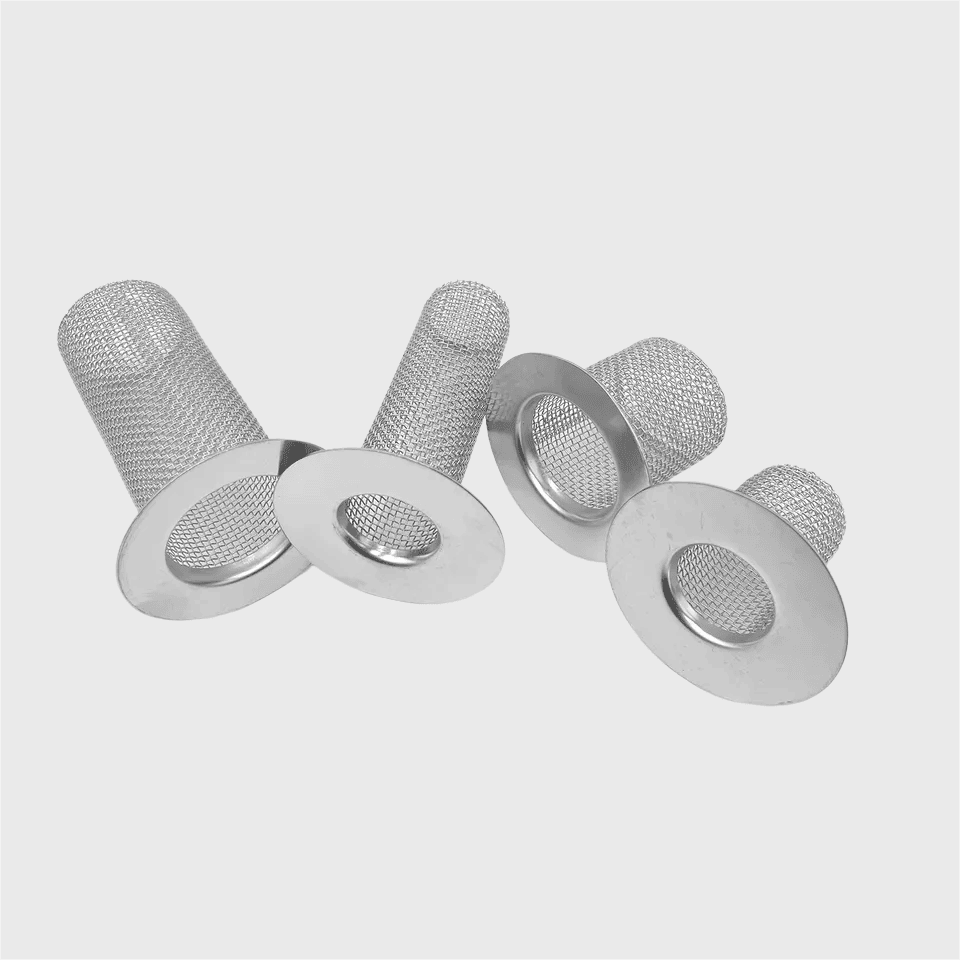 Stainless Steel Mesh Filter Cartridge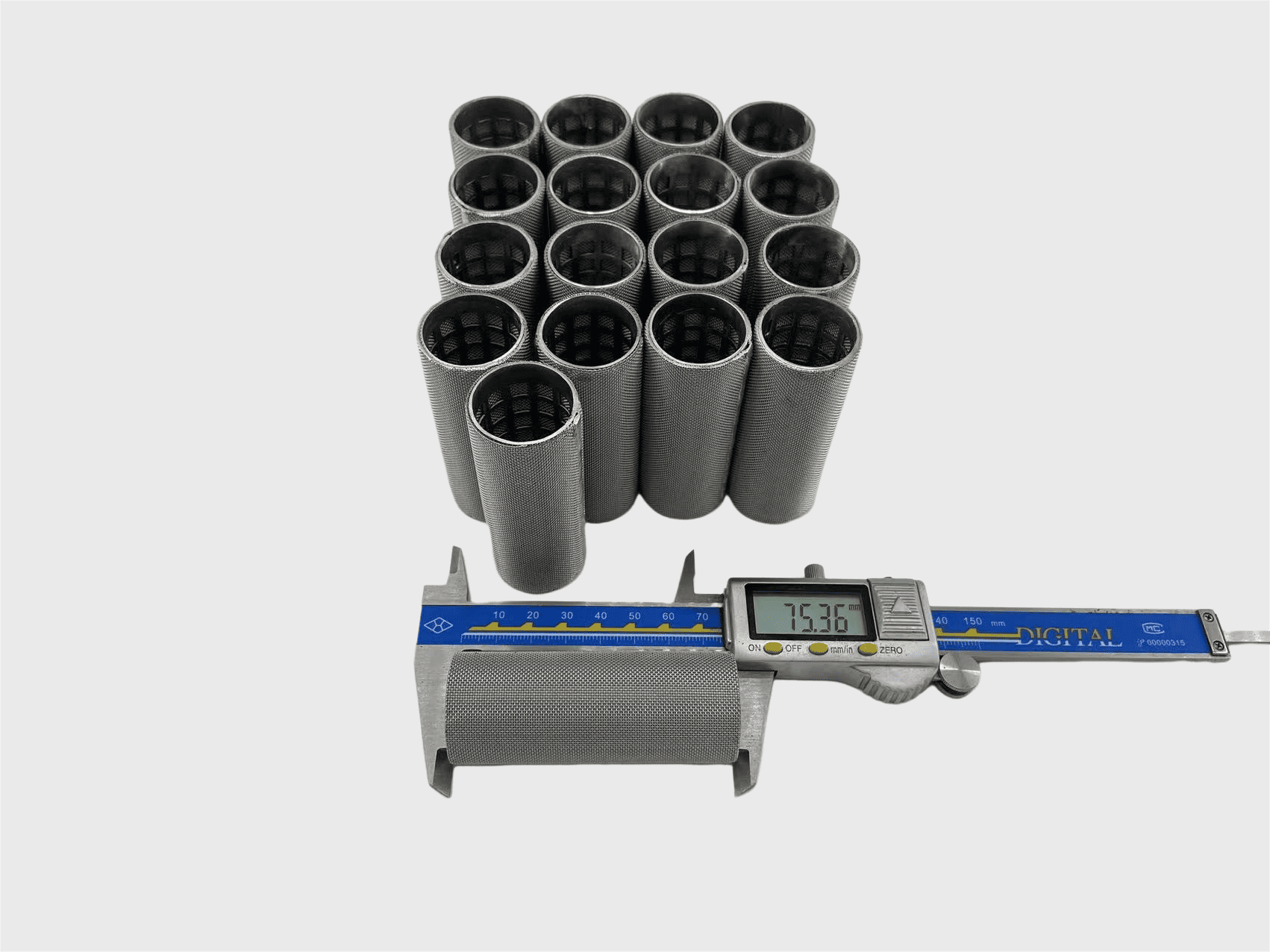 Stainless Steel Filter Screen (Sintered Mesh)
Photo Etching Metal Filter
The filter medium of the photo etching metal filter has a smooth surface and a larger open area. The smooth surface reduces the flow resistance and pressure difference of the liquid, thus allowing the liquid to be filtered at a lower pressure difference. Easier cleaning and maintenance for the photo etching metal filter to intercept burrs and wear particles in the system.
Laminated Perforated Sheet Metal
Laminated perforated sheet metal filter media are sintered together with perforated sheet metal and multiple layers of woven steel wire mesh, which forms a very strong and easy-to-handle porous sheet. It has high-pressure resistance and high mechanical strength. Suitable for environments requiring fine filtration and high-pressure operation.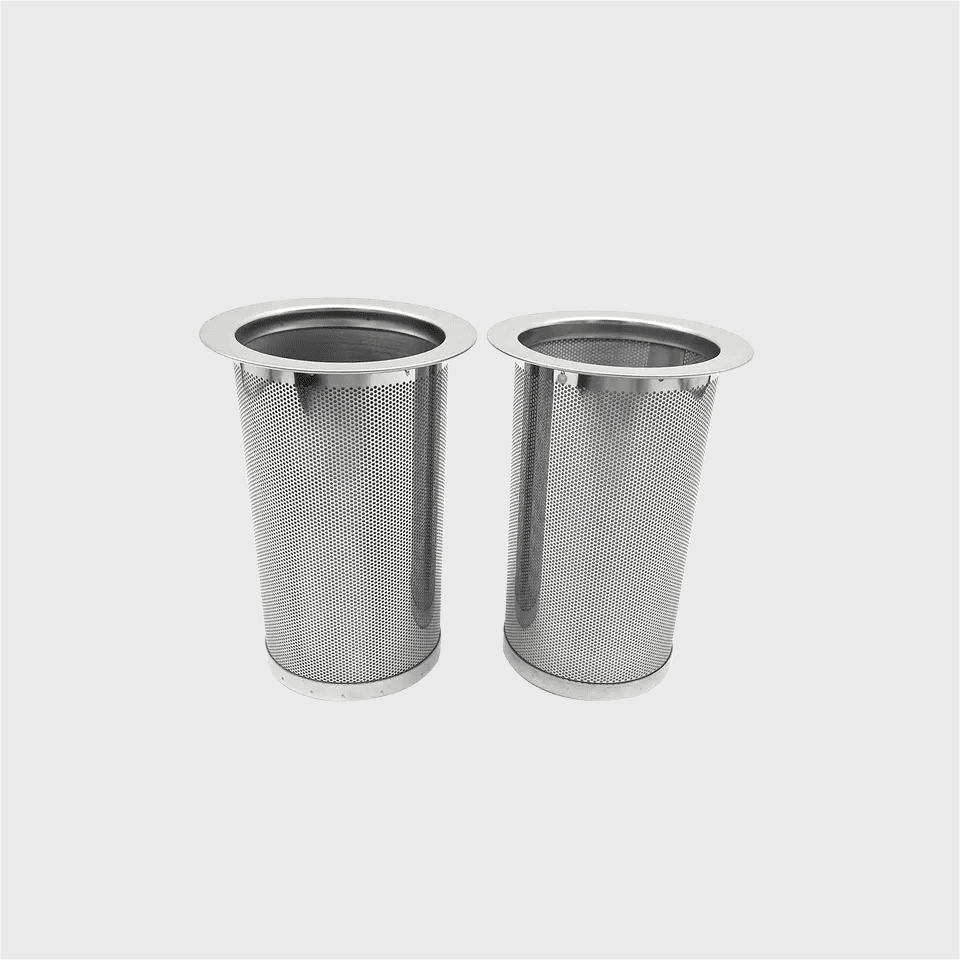 Photo Etching Metal filter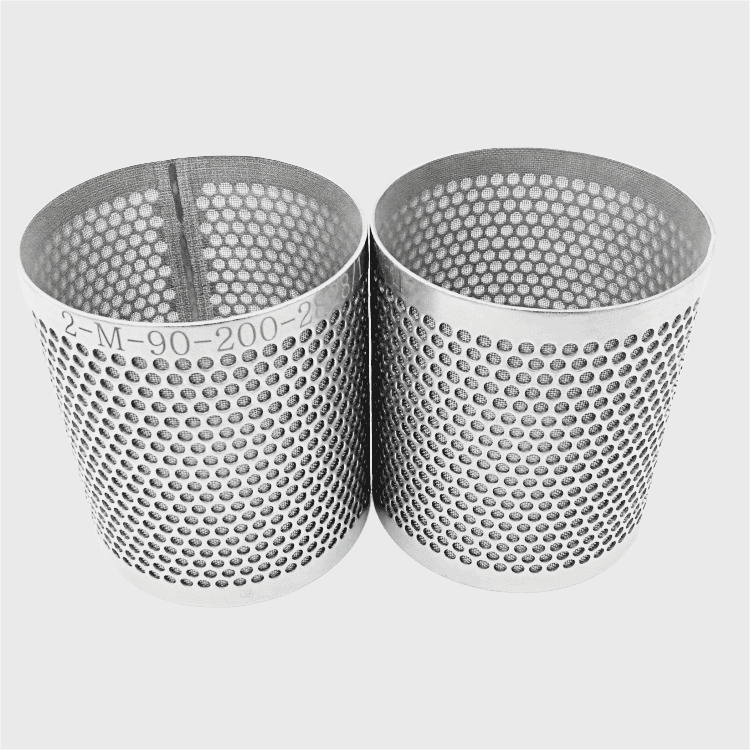 Laminated Perforated Sheet Metal Filter
In order to meet different working conditions and specific installation requirements, Saifilter's stainless steel mesh filter provides users with customized designs. The standard configuration components are as follows.
Thread connection(BSPP、NPT)
Flange connection.
Rod connection.
Double Open End(DOE)
Single Open End(SOE)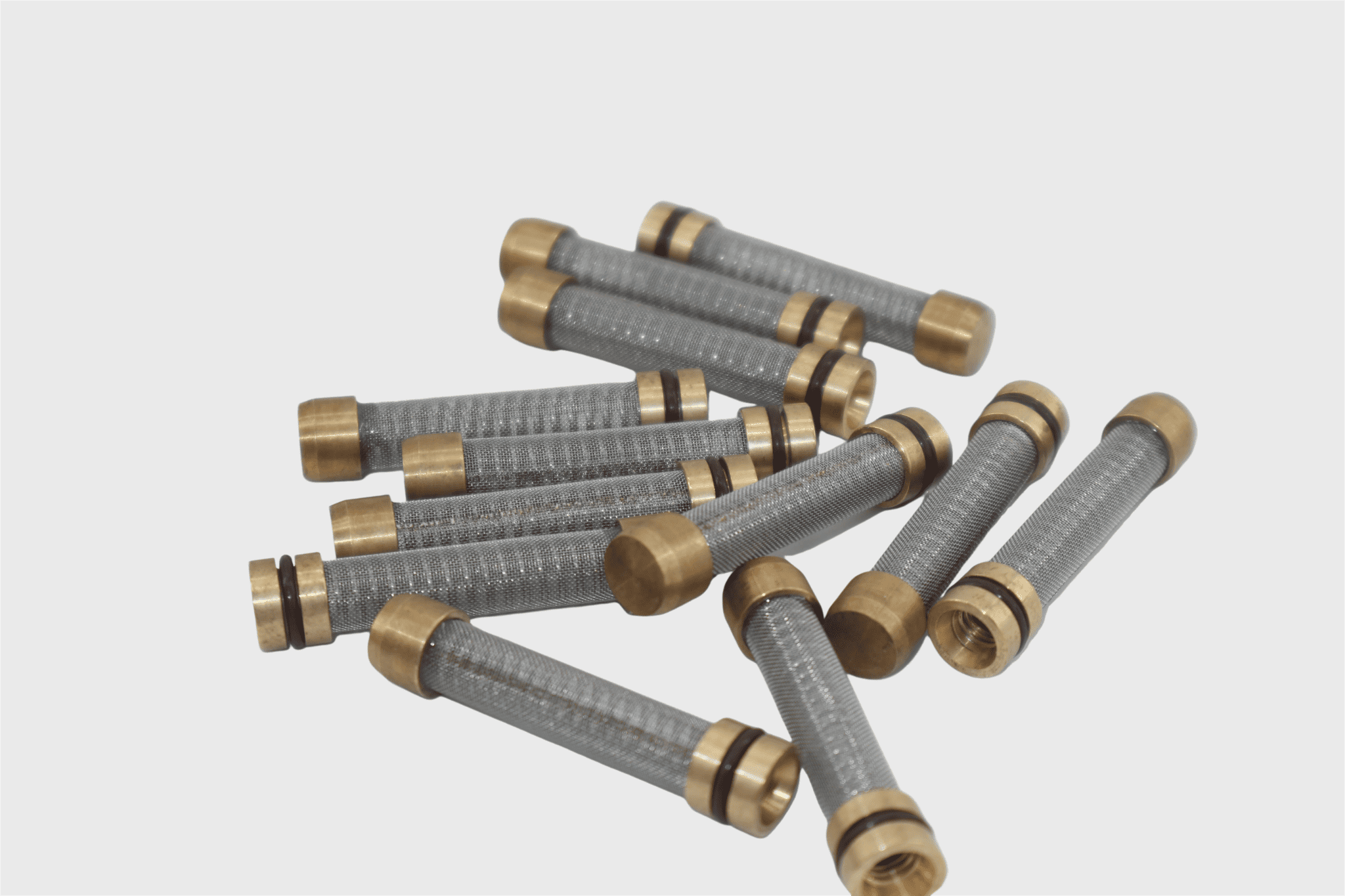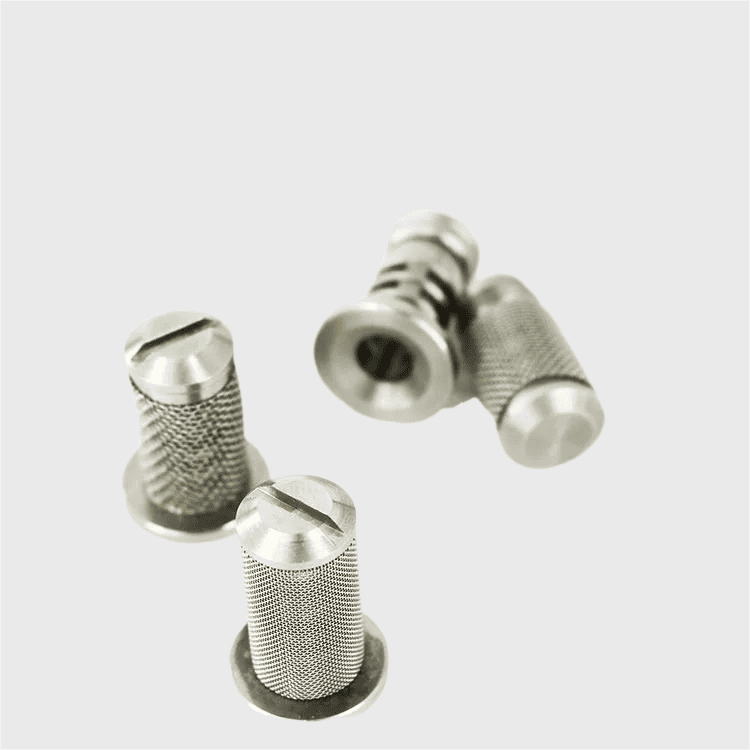 Diameter: 6mm (2.4") to 800mm(24")
Length: 10mm (0.3")  to 1200mm (36")
* Other diameters and lengths are available on request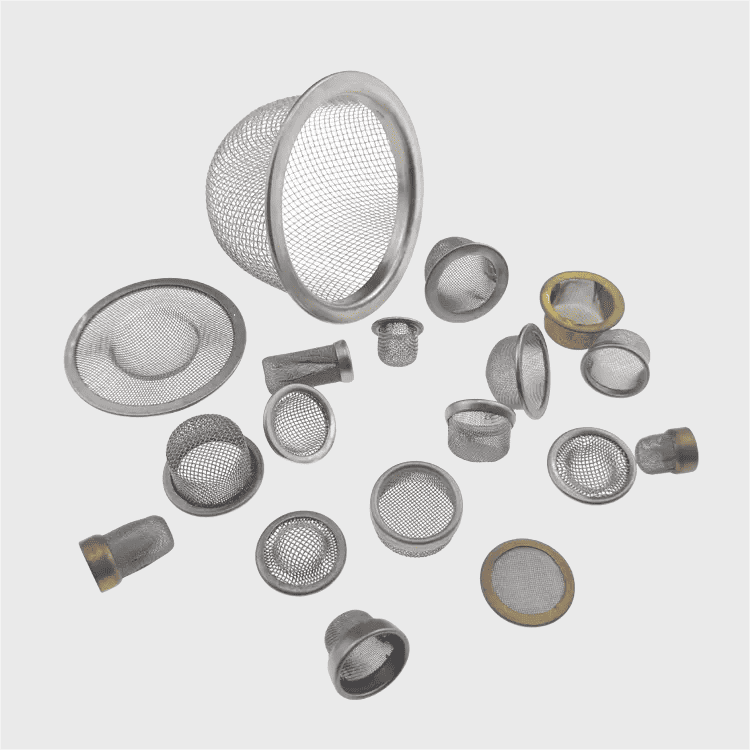 Temperature limit with Buna-N gaskets: 121℃ (250°F), other gasket materials to 232°C (450°F). From -269℃( -452°F ) to 420℃ ( 788°F ) alloy limiting.
Normal flow direction: 2bar (29psi) to 50bar (725psi)
Reverse flow direction: 1bar(14.5psi) to 42bar (609psi)
* Grade dependant
Micron size range:1-2000μm
Different media options: From 1-layer to 7-layer mesh, configurations, standard options include metal woven mesh, photo Etching Metal, and Laminated perforated sheet metal.
Materials of construction: carbon steel, SS304, 316L
Gaskets: PTFE, Buna-N2, Graphite composite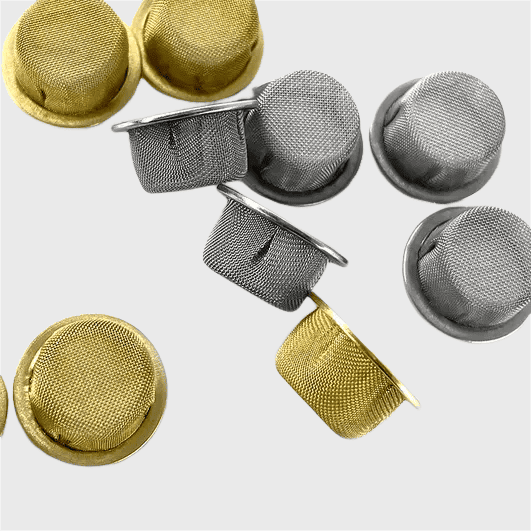 Stainless Steel Mesh Filter Features And Benefits
Flexible Configuration: We can provide different aperture sizes, dimensions, and end connection methods.
Rapid production: Can be produced within 7 days for standard end connection and sealing configurations.
Optimized Flow Rate: Achieve optimal fluid filtration.
Uniform Aperture: Attain absolute filtering aperture effect.
High Stability: Maintain stability under various operating conditions.
Easy Cleaning: Facilitate maintenance and long-term use.
Ease of Machining: Capable of manufacturing different shapes and sizes as per requirements.
Versatility: Applicable in the fields of gas-solid separation and liquid-liquid separation media.
Direct Replacement: Filters come in compatible sizes and can replace well-known brands such as PALL, PORVAIR, GKN, and NORMAN.
Compatibility: Compatible with various liquid or gas media, suitable for operation in harsh environments (including corrosive conditions, high-temperature synthesis gases, or high differential pressures).
Product Traceability: Each stainless steel mesh filter is provided with laser-engraved numbering, and entered into a product traceability system for simplified tracking and management.
Multiple Cleaning Cycles: Depending on the contamination level of the wire mesh filter screen and the type of fluid media, different cleaning processes can be chosen, such as high-temperature steaming, chemical cleaning, and ultrasonic cleaning. The recommended cleaning lifecycle is 2-3 times.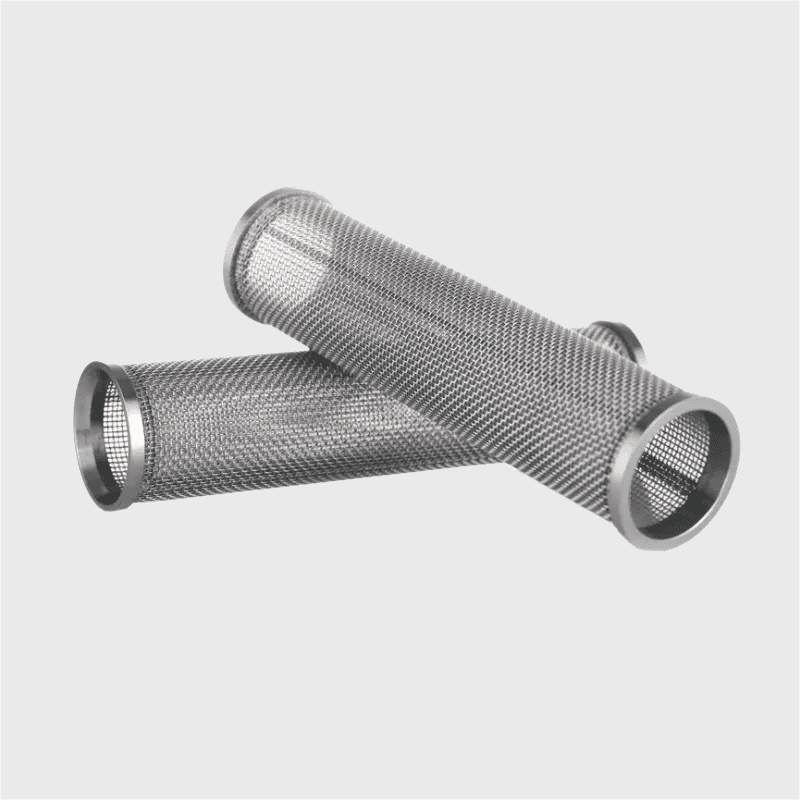 Stainless Steel Mesh Filter Cartridge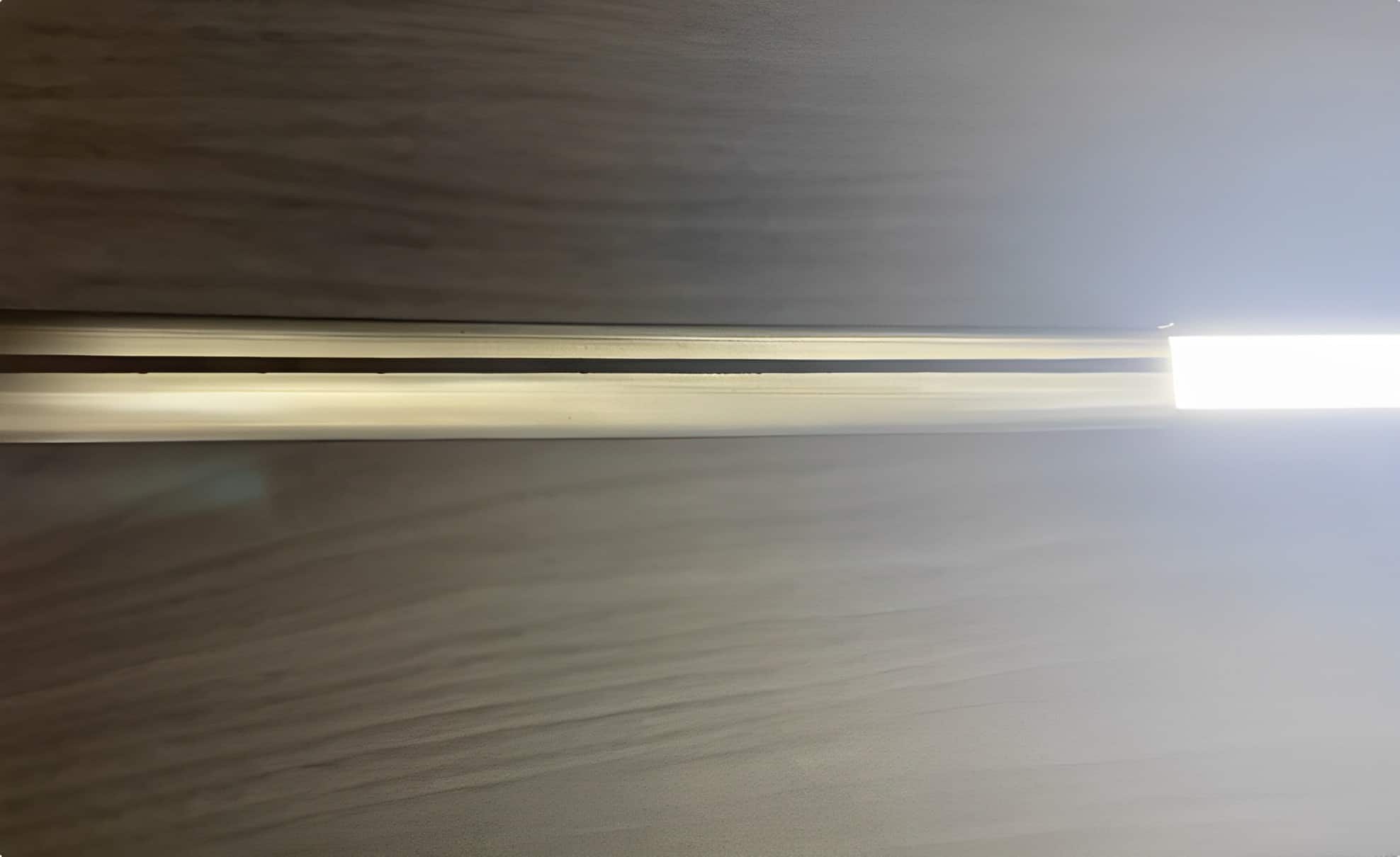 Single Layer Resistance Welding Mesh Filter Tube
Faucet Screens
cosmetic
chemical
water treatment
Aerospace and oil/gas industries
Solvents, paints, water
Filtration, sifting, sizing
Vents
Baskets
Strainers
A stainless steel mesh filter is a filtration device made from tightly woven stainless steel wires. It is used to separate solids from liquids or gases by allowing the fluid to pass through while trapping particles on the surface of the mesh.
Stainless steel mesh filters find applications in various industries such as automotive, pharmaceuticals, food and beverage, oil and gas, and more. They are used in air and water purification, oil filtration, particle separation, and even in coffee machines.
Stainless steel mesh filters are highly durable due to the corrosion-resistant nature of stainless steel. They can withstand high temperatures, exposure to chemicals, and physical wear, making them suitable for demanding environments and prolonged use.
Yes, many stainless steel mesh filters can be cleaned and reused. They can be washed, soaked in cleaning solutions to remove trapped particles, and then rinsed for future use. Regular maintenance ensures optimal performance and longevity.
Stainless steel mesh filters offer several advantages, including high mechanical strength, resistance to corrosion and rust, ability to withstand extreme temperatures, fine particle filtration, and reusability. They provide a cost-effective, reliable, and environmentally friendly filtration solution.