Sintered Metal Powder Filter Elements | Porous Metal Filters
What is the sintered metal powder filter element? The sintered metal powder filter is a filter element that has undergone the process of sintering. The porosity's exploitation allows it to be used for applications such as liquid and gas filtration, gas/liquid flow control, and ventilation applications. Compared to other types of filter materials, such as glass fiber, stainless steel wire mesh, ceramics, filter paper, the sintered metal filters have higher mechanical and compressive strength. In applications with continuous high temperatures and corrosive environments, sintered metal filter elements can be used to improve the filtration process and reduce operating costs. These filter elements can be found in the chemical and petrochemical processes, oil refineries, pharmaceutical production, and semiconductor processes. Moreover, compared with the leaf filters, filter bags, and plate and frame filters, a sintered metal powder filter is more effective in removing particles, delivers more reliable performance, easier to clean, and has a longer service life.
Saifilter sintered metal filters supplier designs and manufactures various sintered metal filters depending on your specific needs, such as sintered stainless steel filter (sintered porous stainless steel filters), sintered bronze filter, sintered brass filter, sintered filter disc, sintered metal fiber felt, sintered wire mesh, sintered metal powder filter cartridge, sintered stainless steel sheet plate, etc.
The Material Options for Metal Sintered Filters
Available material options: Stainless Steel (standard 316L), Bronze, Inconel, Hastelloy, Titanium, Monel, chromium-nickel-iron alloys, Hartz alloy, Monel alloy, and other special alloys on request.
Bronze is the most popular material used for sintered metal filter elements. The sintered bronze filter has much higher filter collection efficiency and is easier to maintain and clean. Stainless steel is another popular sintered filter materials, it has amazing corrosion and heat resistance, among all the stainless steel types, 316L stainless steel provides the best results. What's more, nickel alloys will be required for more extreme filtration environment, such as Hastelloy, Monel, and Inconel. Sintered metal filter elements made from these alloys will have a higher cost.
How are Sintered Metal Filters Made?
Many people want to know the manufacturing process of sintered metal filters. Ok, here is the answer. Firstly, press the metal powder into a customized mold with sufficient pressure to make the powder particles adhere to their contact points with sufficient strength to eject the molded part from the mold.
The unsintered "green" strength of the part depends on the characteristics of the metal powder (particle size, composition, purity, shape, etc.) and forming pressure. After forming, the "green" part is then heated or sintered in a carefully controlled atmosphere at a temperature below the melting point of the metal, the sintered metal filter manufacturer need to allow for a certain amount of shrinkage during this sintering process. After sintering, the original powder particle is replaced by a fully connected sintered filter with a porous metal structure. This process control determines the micron class of the filtration medium, Also the sintered medium is always described by its porosity. The configurations of these porous metal filters are determined by the detailed requirements of your system.
Advantages of Sintered Metal Filter Elements
Reusable and adaptable
High filtering efficiency
High thermal shock
Long service life (They can be cleaned and reused)
High pressure and temperature resistance
Tough and fracture resistant
Corrosion resistance
High thermal shock resistance
A range of geometric possibilities
Fine tolerance to maintain its physical properties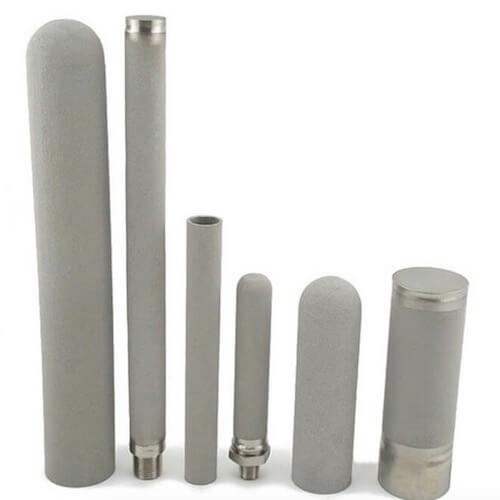 The sintered porous metal filter elements are mostly used in the low flow system and it can be used at the temperature up to 1000°C ( 1832°F ) according to the process conditions. Depending on your specific filtration needs, Saifilter manufacturer will design customized sintered metal filter elements for you.
Dimensions: we have both standard and customized dimensions.
Configuration: tubular, slab-like, candle type, flake-like, discal, ring-like, rod-like, cone.
To confirm the proper design according to your requirements,please prepare the following pieces of information:
Application (filtration, fluidization, dispersion of gas in liquid, silencer, or others.)
Gas/liquid flow
Possible corrosion problems
The process pressure and temperature of gas/liquid
System pressure drop
The expected gas preservation purity and particle reservation
The dimensions, shape, and tolerance
Cleanliness requirements
How to mount or support the filter?
The density and viscosity of the medium
The optimum allocation can be designed by the Saifilter team, and make it is suitable for your system configuration. It is an honor to be your best sintered metal filter supplier.
Sintered Metal Filter Applications
●Catalyst recycle and gasify reservation
●Chemical production
●Mud oil of polymer melt
●Steam filtration
●Decarburization filtration
●Noise reduction and gas buffering
●Particle reservation in the fluidized bed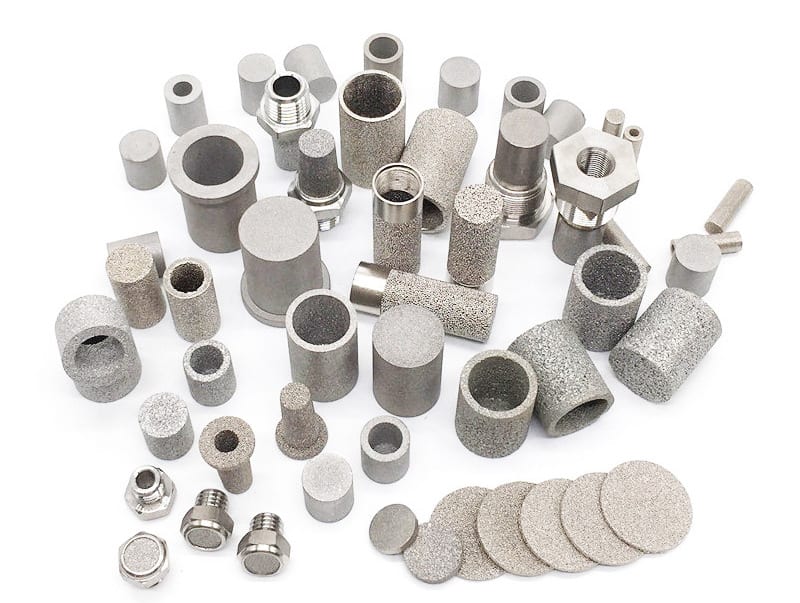 Saifilter sintered metal filter manufacturer can provide excellent filtration solutions for demanding applications. We have innovative custom designs, premium sintered metal raw materials, Service from Engineering up to aftermarket support, and competitive factory direct price! Saifilter is regarded as one of the most professional and reliable industrial filter manufacturers in China.
When choosing a sintered metal filter, please consider the Pore size(particles size you want to keep out), Pressure drop( the loss of pressure that occurs as gasses or liquids flow through the filter), Temperature range, Strength, the flow rate through the filter, operating fluid, etc.
Yes, we are! We have ISO certificate and many patent awards certificates.