Industrial Filters & Filter Cartridges
With over 12 years in the industrial filter industry, Saifilter Company is your reliable filtration specialist. We can design and manufacture custom filtration solutions to meet the needs of a wide variety of applications and industries, like water purification, Oil, gas, water, chemical, food, pharmaceutical, cement&steel, aviation industry, etc. Moreover, Saifilter industrial filter manufacturer provides the most comprehensive product line within the industry and focuses on product development, engineering, and in-house testing procedure.
Saifilter is a results-driven company committed to providing filtration solutions by combining our vast technical expertise, world-class customer support, and short response times. From a simple filter to a complete custom industrial filter system, our engineers will help you get the perfect filtration system for your needs. Contact Saifilter industrial filter manufacturer today if you need help with your next industrial filtration project!

Best Cost Effective & "Concept-to-Reality" Filtration Solutions for You!
Industrial Filtration Systems
Saifilter is a comprehensive manufacturer and distributor of industrial filtration products and services. If you need a complete filtration solution, then Saifilter industrial filter manufacturer will help you to make it. Our filtration system includes industrial filter housing, industrial filter cartridges, associated filter components, and optional control technology and piping.
Saifilter industrial filter manufacturer always provides the best filtration solutions to a problem or a concern. To meet the different needs of the industrial filter, we offer a wide range of sizes and styles of filtration solutions to choose from. As a industrial filtration expert, Saifilter filtration manufacturer is committed to technological innovation, and customer satisfaction. Our industrial filter systems are ideal for applications requiring low maintenance and uninterrupted process flow.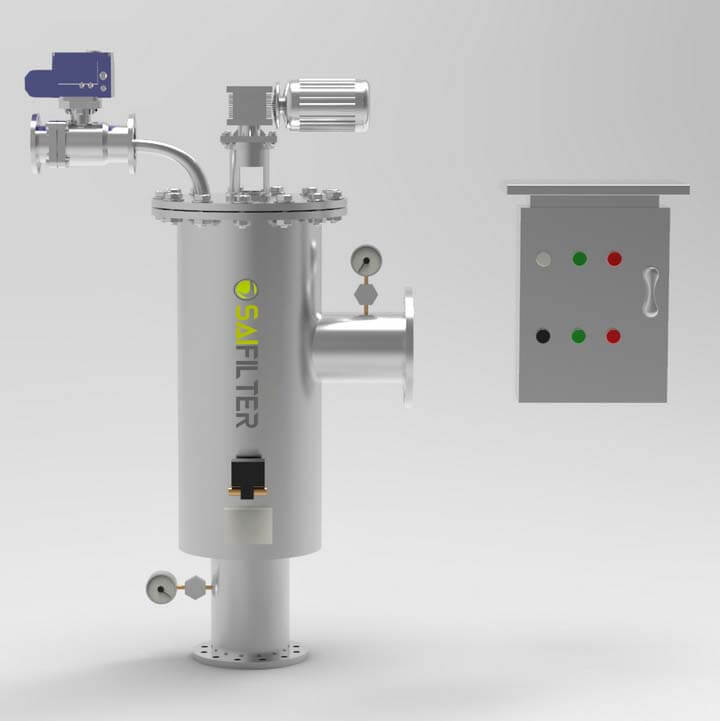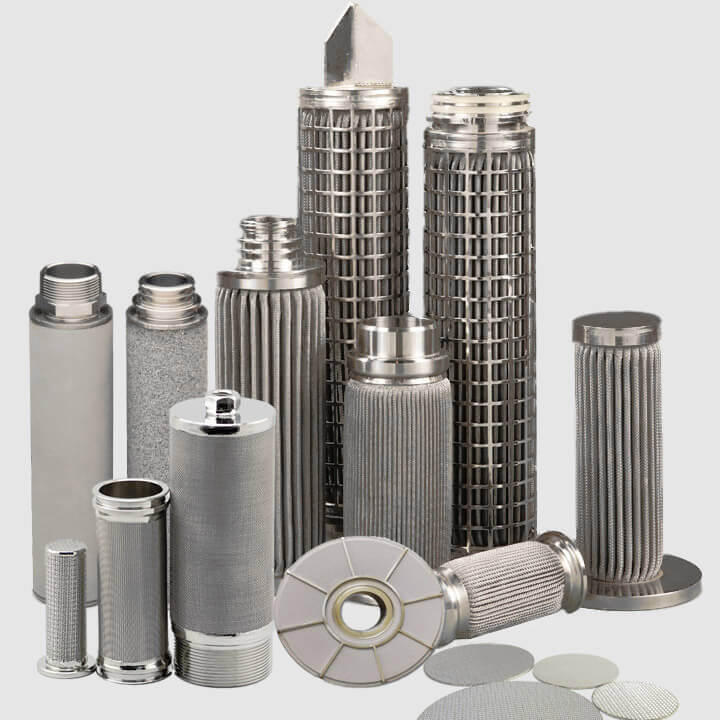 Cleanable Metal Filter Element
Metallic filter elements are ideal for liquid and gas applications under the toughest temperatures, pressures, and corrosive conditions. Saifilter industrial filter manufacturer provides stainless steel filter cartridges, sintered bronze filter element, sintered stainless steel filter disc, wedge wire filter element, stainless steel filter baskets, etc. When these metal filters get dirty, they can easily be restored back into service by ultrasonic, backflushing, or other non-abrasive cleaning techniques, which will eliminate the trouble and expense of buying and storing replacement filters elements.
Browse Our Metal Filter Element Collections
Filtration Media and Materials
Saifilter industrial filter manufacturer offers various porous metal and polymer materials to provide the best filtration solution for a wide range of applications. These materials can be purchased and used in OEM products and can be integrated and used in the final product.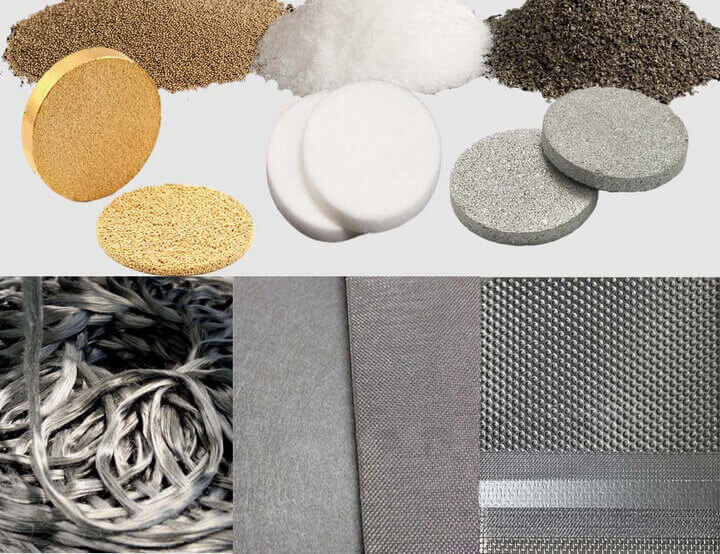 Create A New Product
                       New products need new solutions. Saifilter industrial filter will work with you to create the best one for you.
Customize a Product
If you have an existing product, Saifilter industrial filter manufacturer will customize a filter solution to work with it. Start collaborating now.
What is filtration?
Filtration is a kind of separation, where undissolved solid matter is separated from the fluid (which could be liquid or gas) in which they are suspended. This is achieved by using a filter. The solid matter separated from the fluid after the filtration process is called the residue, and the fluid component, the filtrate. For the process of filtration to occur, certain criteria are to be put in place for a filtration process without errors. These criteria include:
The substance to be filtered, which consists of the mixture of the solid and the fluid
A filtration media, which carries out the process of filtration; the kind of materials used as a filtration media depends solely on the nature of the substance that is to be filtered
The mechanical apparatus, which holds the filtration media in place; this apparatus coordinates the flow of the force through the filtration media to carry out the process of filtration.
The filtration force, a violent form of hydrostatic pressure, causes the fluid to flow through the filtration media. This force helps initiate filtration.
Types of Filtration
Like we established earlier, filtration could morph from being A-B-C-simple to being quite complex. This depends on the size of particles to be filtered, which determines the type of filtration process that would be used. The kinds of filtration processes frequently used are;
Vacuum Filtration: This is a quick and efficient filtration process that separates the filtrate from its residue using suction pressure. This kind of filtration is usually used if the solid residue is required after the process of filtration.
Gravity Filtration: This method of filtration uses gravitational force, which pulls down to pull liquid through the filtration media down. This is used when the solid residue is to be discarded and the filtrate retained.
Centrifugal Filtration: This is based on the application of centrifugal force. Centrifugal filtration works by filling a rotating basket with the substance to be filtered. Once the rotation of the basket is accelerated, centrifugal forces separate the fluid from the solid residue by pulling out the filtrate and sedimenting the residue.
Cold Filtration: The mixture to be separated is passed through an ice water bath, which enhances the crystallization of an initially dissolved solid. This mixture separates solids such as fats, esters, and proteins, which are miscible with fluid at normal temperatures. A water bath is used to hasten the cooling process so small crystals can be formed. This is preferable to cool at room temperatures where large crystals are formed.
Multilayer Filtration: In this kind of filtration, the substance to be filtered passes through various layers of filtration media (beds). The fineness of the filter layers increases in the direction of the filtration process.
Mechanical Filtration: This is one of the first filtration steps to be carried out to trap large solids of different sizes. This type of filtration requires a pressure higher than the atmospheric pressure. Mechanical filtration is of two kinds: Surface filtration and depth filtration. Surface filtration is characterized by very small permeable pore sizes, which trap the solid residue and allows the free flow of the filtrate. It comprises thin layers of filter media. Depth filtration comprises thicker multiple layers of pores that are permeable. These layers of pores capture the solid and allow the free uncontaminated liquids to pass.
Hot filtration: This process is used to separate immiscible solids from a hot mixture. The mixture is heated to prevent the crystallization of the solid, which might alter the filtration process.
For the accuracy of results, some factors have to be considered before choosing the right kind of Filtration media. These factors include:
Physical Connections: Critical physical features are examined when choosing filters. The features assessed include:
The barbed connections, which should fit perfectly with the kind of tubing selected
The threaded connections, which are preferable for machinery, should have the right thread, installation, and sealant
The push-in connectors, which make installations much easier, should fit into tubings.
Other shaped configuration models should fit in properly
Working Conditions: The working conditions of filters should be considered important and tested in varying temperatures and pressures. If the working temperature is too high, and there is a high viscosity of the fluid, the filter media could become dysfunctional. The following factors should be assessed:
Does the pore size of the filter media have to stop particles of smaller microns that cannot be seen by the naked eyes?
Can the filter media handle a large volume of residue?
Does the pressure change in the filter media?
Does the viscosity of fluid affect the capacity of the filtration media?
Does the filter media have to remove heavy residue from the filtration process?
Chemical compatibility: The chemical compatibility needs of both the filter media and the filtration system should be accessed. Acids, alkaline, and other organic solvents combinations are important to consider when selecting a filter media. A higher temperature of solvents increases the reactivity of the filter media. Even the increase in temperature of the basic inorganic solvents propels reactions.
Particle Separation: Since filtration grossly involves the separation of residue from its fluid, the following factors should be considered.
When removing liquid from gaseous mixtures, do sensors need to be protected from contact with liquids and vent chambers due to their volatility?
Do bubbles pose a threat to the filtration process?
Do fluids have to be removed completely while separating from residual particles?
Other Considerations which comprises features you would want to be displayed in the filtration system. These features may consist of the color-coding by the pore size of the filter element, compliance of all factors to regulatory bodies put in place (FDA, USP, NSP), and visual inspection of the filter media has to be checked.
A lot of industrial processes consider filtration a vital part of their operation. Filtration is essential for several applications, some of which are listed below.
Purification: Filtration is pertinent in purifying substances such as water, pharmaceuticals, beverages, and chemicals. It ensures freedom from contaminants and eliminates unsafe and unfit particles.
Efficiency: Filtration ensures the excellent and continuous performance of many industrial operations and machinery. Filtration ensures less stress on the machinery involved. Hence the working span of the machines is guaranteed for a longer period.
Protect Equipment: Proper filtration helps protect the machinery used, more especially the large and expensive ones. Filtration protects these machines from particles that would corrode them and reduce their efficiency, in turn, saving time and money by avoiding replacement of the corroded parts.
Safety: Filtration ensures safety in the workplace and the environment by preventing cross-contamination and health hazards associated with improper filtration. It saves industries from regulatory bodies involved in checkmating the requirements of a hazardous free process.
Product Isolation: Perforated tubes are designed with holes to separate particles from each other. Like straining pasta, many manufacturing and industrial processes need to isolate their solids, gases, oils, water, and other fluids to keep their systems functioning right.
Application of Filtration in Markets
Filtration has spread its web of importance into every industry concerned with purification and safety of the environment. Some markets application of filtration are:
Beverages and Food: Filtration is used to purify food, flavors, and beverages when they are produced.
Fragrance and Flavors: The filtration process purify and isolates flavors and sweet fragrances from their residue.
Electrical utility: Petroleum spirit and other derivatives are filtered, and end products used for power generation.
Pharmaceuticals: Filtration is done to remove contaminants from drug forms and efficiently purify this drug substance from their chemical mixtures.
Mining: The Filtration process is applied to dehydrate water from metal residue. Medium and high-quality filtration processes are applied for mining applications.
Energy and Biofuels: The filtration process is applied to generate energy and biofuel products. Clarification systems and biodiesel washing systems are similar applications.
Industrial Waste Filtration: Dehydration of industrial waste remove residual particles.
Chemical: proper purification of chemical materials to yield pure products.
Cosmetics: Filtration of skincare products and Polishing oils.
We are the best filtration experts out there, concerned to provide you with the best filtration systems for any industrial application you would want. Saifilter industrial filter manufacturer offers the most comprehensive filtration systems spanning all industrial processes and focused on engineering, in-house testing, and product development. We are result-oriented, and we are concerned to give you the best filtration experience by giving the best of our expertise and support to give you the best of what you paid for, doing this in a short period. Contact us today to get the best of filtration experience you would encounter. We're here to serve you.
Become a distributor
See the benefits of being one of our partners
WHY CHOOSE SAIFILTER?
Saifilter industrial filter manufacturer is an expert in filtering all liquids! At the heart of our philosophy: All of our industrial filters are developed and manufactured by ourselves. Therefore, we ensure that they always meet our own high quality standards. We value our relationship with managers, business partners, and colleagues.
Pre-sale Service
Saifilter company offers high performance filtration resolutions to a wide range of industries. Tell us your industry requirements, fluids, system cleaning needs, contaminants to be removed, and operational budget requirements, and we'll give you the most professional suggestions!
Consulting and Optimization
Are you interested in optimizing your current industrial filter system to make it more efficient? Saifilter industrial filter manufacturer will be happy to help you analyze the design together to provide a customized filter solution.
Local Support
Do you need to maintain support for the filtration system? Do you need on-site boot support for the Safilter filter? No problem! Saifilter industrial filter supplier will be happy to provide you with a service agreement.
Introduction to Sintered Metal Filters Sintered metal filters represent a state-of-the-art filtration solution, crafted through a distinctive process that employs metal powders formed under heat and pressure to create a …
Yes, we are a professional industrial filter manufacturer and we have our own filter equipment manufacturing plant in China.
Sailfilter industrial filter manufacturer has a professional design team to provide drawings, we are waiting for your confirmation and production
Yes, Saifilter company has an ISO/CE certificate and patent certificate.
Timely transportation to ensure delivery time
Of course, Saifilter is an experienced industrial filter manufacturer in China. We have our own industrial filter factory to finish the product production. We're happy to offer the most competitive factory direct price!